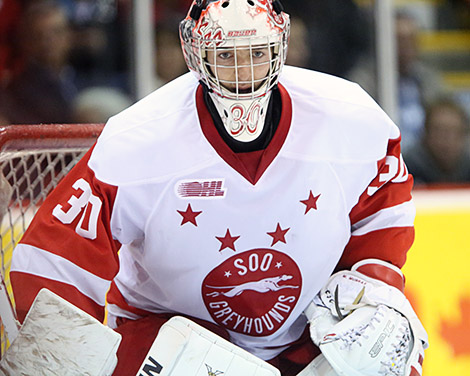 At times this season, the Soo Greyhounds have found themselves struggling to score and extend leads.
Despite a scoreless third period on Thursday night, the Greyhounds built up a 3-0 lead in the first period and beat the Windsor Spitfires 6-0 at the WFCU Centre in Windsor in Ontario Hockey League action.
Despite being outshot by a 17-12 margin in the opening period, the Greyhounds found themselves up three through 20 minutes and sealed the win with three more goals in the middle stanza.
"It was good to see the puck go in for us tonight, it seemed like it was going to be one of those nights where things finally went our way and we were going to get some bounces," said Greyhounds coach Sheldon Keefe. "The luck turned the other way today. There have been a lot for games where we've dominated teams and not gotten a lot of offensive production. Today, in the first period we were outplayed and found a way to get the 3-0 lead so it was nice to see the luck come back on our side."
The Greyhounds found themselves with goals from five different players in the win.
"That's been a big part of our success is that we can get goals from all four of our lines," said Keefe. "To see things spread out today is another positive sign for us."
Dylan Corson, acquired from the Barrie Colts in a trade prior to the Christmas break, scored a pair of goals for the Greyhounds in the win.
"We were happy to see Dylan Corson contribute," said Keefe. "We feel he has the ability to contribute offensively for us ad he showed that today. He had a chance to play with Sergey Tolchinsky and Blake Speers and he got the puck in good offensive spots and made it count."
"Corson has come in and been a team guy for us," Keefe also said of Corson. "He's provided leadership and played all three forward positions for us and helped on the penalty kill. He's good on faceoffs and today got rewarded with some offence."
Adding to Corson's two goals, Bryan Moore, acquired from Sarnia prior to the trade deadline, had a goal and an assist in the win.
"Moore has done what we thought in that he gives us another good offensive player that can be another difference-maker for us whether he's scoring a goal or making a big play," said Keefe. "He's showing those signs early as we expected."
Patrick Watling also had a goal and an assist in the win while Andrew Fritsch and Blake Speers also scored. Sergey Tolchinsky set up a pair of goals in the win.
Greyhounds goaltender Matt Murray stopped 38 shots for the shutout, including 17 in the opening period.
"Goaltending was the difference in the hockey game," Keefe said. "If not for Matt being on top of his game, We don't get out of that period up 3-0. Even though we were up three, we probably could have given up four or five. He was the difference today and it was really nice to see him be up for the challenge."
With the win, the Greyhounds improve to 30-10-1-4 and increase their lead atop the OHL's West Division over the Spitfires to 13 points, having won four-straight. The Spitfires fall to 25-17-2-0 and are winless in their last six games.
Thursday's game was the first of a three-game road trip for the Greyhounds. The trip continues on Friday night when they travel to Sarnia to take on the Sting in a 7 p.m.start.
File photo courtesy SooToday.com's Kenneth Armstrong