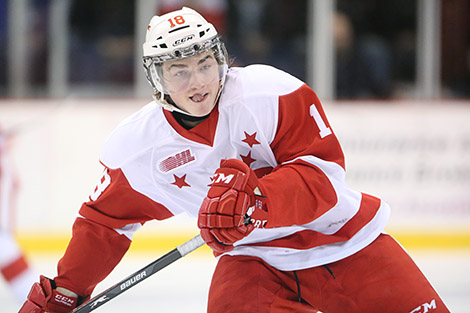 A solid goaltending performance helped lift the Soo Greyhounds on Saturday night in the second of a three-game homestand.
Greyhounds goaltender Matt Murray was perfect as the Greyhounds blanked the Oshawa Generals 3-0 at the Essar Centre in Ontario Hockey League action.
Murray made 40 saves in the win.
"Tonight was as good as I've seen him (this year)," said Greyhounds coach Sheldon Keefe of the veteran netminder. "I got the sense early that he wasn't going to be beat. (Oshawa) had some very good chances. It seemed to be one of those nights that you think to yourself on the bench that it's going to be one of those nights that he doesn't get beat. We certainly didn't make life easy on him but he was in the zone tonight."
Murray pulled into a tie for the OHL lead in shutouts in the win as Saturday's whitewash of the Generals was Murray's fourth of the season, tying him with Erie Otters goaltender Oscar Dansk.
"He was great tonight," Oshawa coach D.J. Smith said of the Greyhounds netminder. "When you're playing another team in the league with an average goalie, it's just another OHL game and we probably would have had a chance. He was solid tonight from start to finish. And that's why he's an elite goalie in this league."
Blake Speers finished the night with a pair of goals while Jared McCann had a goal and an assist in the win for the Greyhounds.
Both coaches referred to the Greyhounds capitalizing on their opportunities as being a difference in the game.
"That's the key to winning games when you're outplayed," said Keefe of the Greyhounds capitalizing on their opportunities. "One is you have to be really good on special teams and you have to capitalize (on opportunities). They made a mistake early in the first period and Blake Speers capitalized on it. They took a number of penalties and it allowed us to capitalize on the power play opportunities and win the special teams battle."
Said Smith: "We haven't been able to put pucks in the net and since (Scott) Laughton has been gone our power play has gone cold. We battled hard tonight. We outshot them and out-chanced them. They capitalized on three major mistakes by us and that was the game."
"I can't complain, our young guys played hard," Smith added. "To come on the road and hold a team to 23 shots and I don't know what the chances against were but I imagine they weren't very high, that's what high offensive teams do. They find ways to score on their chances."
Ken Appleby got the start for the Generals, stopping 14 of 17 shots in two periods of action. Daniel Altshuller stopped all six shots he faced in the third period.
"Five-on-five we were outplayed for a bulk of the game," said Keefe. "Oshawa plays hard and fast and that presented some challenges to our guys. It was a completely different pace than what we had to compete against in the last few weeks."
The Greyhounds return to action on Sunday afternoon as they wrap up their three-game homestand against the Kitchener Rangers in a 2 p.m. start at the Essar Centre.
************************
HOUND BITES
Forward Nick Pastorious is no longer with the Greyhounds.
"We had a trade request from his agent (Darcy Tucker) about three weeks ago," said Greyhounds GM Kyle Dubas Saturday night. "The reasoning was that he wanted to be closer to home."
Dubas said that Tucker informed him Thursday morning that Pastorious would be leaving the team to await a trade.
Dubas added that if a trade does not get worked out, Pastorious would be placed on waivers, adding that it could happen as early as Monday.
Photo courtesy SooToday.com photographer Kenneth Armstrong
To view video highlights of this game, please click here