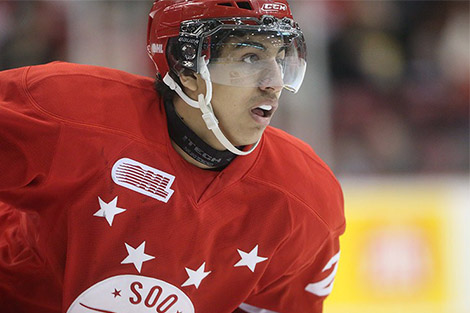 Soo Greyhounds overage forward Patrick Watling was named the recipient of the Roger Nielson Memorial Award on Wednesday afternoon as the OHL's top post-secondary school student athlete.
The 20-year-old took courses through the University of Guelph during the season while also posting career-highs with 18 goals and 4 points in 65 games with the Greyhounds.
Watling is an engineering student and maintained an "A" average in courses that included Macro Economics, Environmental Engineering, Human Impact on Environment, Innovative Engineering and Canadian perspective on Engineering.
"I am really excited to have been chosen to win the Roger Neilson Award," Watling said in a release. "To be recognized throughout the league for my efforts as a student is an honour and I am very grateful. The way the Soo Greyhounds organization approaches schooling it has made it easy for me to excel. They have given me all the resources I need to succeed in a very intense hockey environment."
Guelph Storm rookie forward was named the recipient of the Ivan Tennant Memorial Award as the league's top academic high school student.
Erie Otters forward Connor McDavid took the league's Bobby Smith Trophy as the OHL's scholastic player of the year, an award won last year by current Greyhounds captain Darnell Nurse.
Rookie forward Blake Speers was the Greyhounds nominee for the award this season.
Following is the full release from the OHL.
*************************
Toronto, ON – The Ontario Hockey League today announced the recipients of the league's three Academic Player of the Year awards for the 2013-14 season.

Connor McDavid of the Erie Otters is the recipient of the Bobby Smith Trophy as Scholastic Player of the Year, with Adam Craievich of the Guelph Storm named the Ivan Tennant Memorial Award recipient as Top High School Student, and Patrick Watling of the Sault Ste. Marie Greyhounds is the Roger Neilson Memorial Award recipient as Top Post-Secondary School Student Athlete.

All three players will be formally presented with their awards at the annual OHL Awards Ceremony on Tuesday June 3. McDavid will be the OHL's nominee for CHL Scholastic Player of the Year which will be announced on Saturday May 24 as part of the events at the 2014 MasterCard Memorial Cup in London.

Bobby Smith Trophy (OHL Scholastic Player of the Year) – Connor McDavid, Erie Otters

Connor McDavid, a 17-year-old from Newmarket, ON, currently attends McDowell High School in Erie where he achieved a 92% average during the first semester while taking courses that included University prep English, Algebra, and Contemporary Issues. He currently carries an 87% average in his final semester of Grade 11. McDavid becomes the third member of the Otters to earn Scholastic Player of the Year honours since it was first presented in 1980 following teammate Adam Pelech in 2012, and Brad Boyes who earned the award in 2000.

"This is a tremendous honour, school is very important to me and my family," McDavid said. "It's hard to balance hockey and school, but it's nice to be rewarded with an award like this. It's (School's) something I take a lot of pride in and I feel it's very important to do well in."

On the ice, McDavid finished fourth in OHL scoring with 99 points in 56 games competing in his second OHL season with the Otters. The OHL's Rookie of the Year last season, McDavid was the first overall pick in the 2012 OHL Priority Selection. Eligible for the 2015 NHL Draft, McDavid also earned the William Hanley Trophy as the league's Most Sportsmanlike Player of the Year this season and was the youngest player to represent Canada at the 2014 IIHF World Junior Championship.

"This is an example of the goal oriented, high character person Connor is," said Otters' Governor and General Manager Sherry Bassin. "He should have a sense of pride in his attempt to be the best at all he's doing. Connor is a product of a special environment and his parents should be very proud of what a special young man they have raised."

Each year the Bobby Smith Trophy is presented to the OHL Scholastic Player of the year who best combines high standards of play and academic excellence. The trophy is in honour of Bobby Smith, former Ottawa 67's star who exhibited a standard of excellence in both of these areas. Past winners to also receive the award as a 17-year-old include Ryan Ellis (Windsor 2007-08), Steven Stamkos (Sarnia 2006-07), and Dustin Brown (Guelph 2000-01) who is the only three-time award recipient. Other recent recipients include current NHL players Dougie Hamilton (Niagara 2010-11), Erik Gudbranson (Kingston 2009-10), and Matt Duchene (Brampton 2008-09). Darnell Nurse of the Sault Ste. Marie Greyhounds was last year's recipient.

Finalists for the award include Roland McKeown of the Kingston Frontenacs, Brendan Perlini of the Niagara IceDogs, and Travis Konecny of the Ottawa 67's.

Ivan Tennant Memorial Award (Top Academic High School Student) – Adam Craievich, Guelph Storm

Adam Craievich, a 16-year-old rookie from Sarnia, ON, achieved a 91% average in semester one with a full five-course workload including Grade 11 University prep Biology and Chemistry. He currently holds a 96% average this semester at Our Lady Of Lourdes High School in Guelph with courses that include University prep English, Math Functions, and International Business.

Selected by the Storm in the third round of the 2013 OHL Priority Selection, the former OHL Cup MVP with the 2013 champion Oakville Rangers recorded 10 points in 41 games played this season. Craievich was named the Midwest Division Academic Player of the Month for February and becomes the first member of the Storm to win the Ivan Tennant Memorial Award since it was first presented in 2005.

"Adam is well deserving of this prestigious award," said Storm General Manager Mike Kelly. "His commitment to hockey is matched by his commitment to academic excellence. While we have many high achieving student/athletes, Adam's ability to manage his time and stay on task, is truly exceptional."

The Ivan Tennant Memorial Award is given to the Top Academic High School Player and is named in honour of Ivan Tennant, who spent a lifetime combining hockey and education. He was the Kitchener Rangers' Education Consultant for 20 years and a key figure on the OHL's Education Consultant's Committee. Past winners of the award include brothers Freddie and Dougie Hamilton of the Niagara IceDogs in 2009 and 2010 respectively, followed by Andrew D'Agostini of the Peterborough Petes in 2011, Adam Pelech of the Erie Otters in 2012, and Connor Burgess of the Sudbury Wolves last season.

Finalists for the award include Blake Speers of the Sault Ste. Marie Greyhounds, and Mitchell Webb of the Peterborough Petes.

Roger Neilson Memorial Award (Top Post-Secondary Student) – Patrick Watling, Sault Ste. Marie Greyhounds

Patrick Watling, a 20-year-old from Sault Ste. Marie, ON, is also an Engineering student taking courses through the University of Guelph where he is an 'A' student taking courses that include Macro Economics, Environmental Engineering, Human Impact on Environment, Innovative Engineering, and Canadian perspective on Engineering.

"I am really excited to have been chosen to win the Roger Neilson Award," Watling said. "To be recognized throughout the league for my efforts as a student is an honour and I am very grateful. The way the Soo Greyhounds organization approaches schooling it has made it easy for me to excel. They have given me all the resources I need to succeed in a very intense hockey environment."

The overage forward recently completed his third full OHL season and first with his hometown Greyhounds after playing two seasons with the Guelph Storm. This season he set career-highs with 18 goals and 36 assists for 54 points in 65 games for the West Division champs. He becomes the first member of the Greyhounds to win the Roger Neilson Memorial Award since it was first introduced in 2005.

"Patrick winning the Roger Neilson award today is further confirmation that an individual can have elite success in the classroom and on the ice while playing in the Ontario Hockey League," said Greyhounds General Manager Kyle Dubas. "Patrick graduates from our league with nearly two years completed towards his undergraduate degree in Engineering at 20 years old. His commitment to his studies combined with his outstanding on-ice play this season served as a great example to our young players that they can maximize their potential both as students and athletes with our organization. Watching Patrick's commitment to his studies this season was a lot of fun for our organization to be a part of and we are very proud of his accomplishment."

The Roger Neilson Memorial Award is named in honour of the Hall of Fame Coach who served behind the Peterborough Petes bench in the late 1960's and early 1970's. Neilson, a former high school teacher, was a pioneer in stressing the importance of education to all of his players. Former winners of the award include Derek Lanoue of the Windsor Spitfires who won back-to-back in 2010-11, followed by Kyle Pereira of the Guelph Storm in 2012, and Daniel Altshuller of the Oshawa Generals last season.

Altshuller was once again a finalist for the award this season along with Curtis Meighan of the Kitchener Rangers.

All 20 of the OHL's member clubs provide nominees for each award with the Bobby Smith Trophy nominees representing the 2013-14 OHL Scholastic Team:

2013-14 OHL Scholastic Team:
Barrie Colts – Andrew Mangiapane
Belleville Bulls – Adam Laishram
Erie Otters – Connor McDavid
Guelph Storm – Adam Craievich
Kingston Frontenacs – Roland McKeown
Kitchener Rangers – Nick Magyar
London Knights – Owen MacDonald
Mississauga Steelheads – Jesse Barwell
Niagara IceDogs – Brendan Perlini
North Bay Battalion – Riley Bruce
Oshawa Generals – Michael Dal Colle
Ottawa 67's – Travis Konecny
Owen Sound Attack – Brett Hargrave
Peterborough Petes – Mitchell Webb
Plymouth Whalers – Cullen Mercer
Saginaw Spirit – Eric Locke
Sarnia Sting – Noah Bushnell
Sault Ste. Marie Greyhounds – Blake Speers
Sudbury Wolves – Nick Baptiste
Windsor Spitfires – Patrick Sanvido
*************************