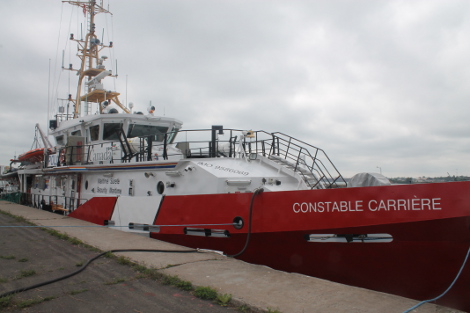 Less than two months after the CCGS Constable Carriere (pictured) was officially dedicated at a ceremony on the Sault Ste. Marie waterfront, the deck of the new Canadian Coast Guard vessel will be open to tours for the general public between 10 a.m. and 5 p.m. Wednesday on the waterfront beside Roberta Bondar Pavilion.
Admission is free.
Canadian Coast Guard Captain Mike Hines, the vessel's commander, and RCMP Constable Mike Smook told SooToday.com the ship is on patrol, with Wednesday's tour designed to give the public a greater awareness of what the two agencies do and how they work together.
The vessel arrived in Sault Ste. Marie Saturday and is scheduled to leave late Wednesday or Thursday.
The CCGS Constable Carriere, the fourth of nine new Hero Class vessels to join the Canadian Coast Guard fleet (named for decorated soldiers, veterans, police officers and employees of Fisheries and Oceans Canada and the Canadian Coast Guard) was officially dedicated June 26, with a large group of law enforcement officials in attendance.
Family members of the late RCMP Constable J.L. Francois Carriere were present that day.
Constable Carriere was a member of the RCMP stationed in Cape Breton, Nova Scotia, who died November 30, 1997 while performing an underwater search of a vessel believed to have been smuggling illegal drugs.
It is, of course, equipped with all the latest gear, including two RHIBs (rigid-hulled inflatable boats).
The Carriere is a 43 metre long mid-shore patrol vessel, which, along with other Canadian Coast Guard mid-shore vessels, patrols the Great Lakes and St. Lawrence Seaway to enhance national security and respond to potential threats, its crew working closely with their U.S. Coast Guard counterparts.
The Canadian Coast Guard is responsible for operation of the ship, while the RCMP is responsible for the law enforcement aspect.
To see SooToday.com's coverage of the Carriere dedication ceremony in June, click here