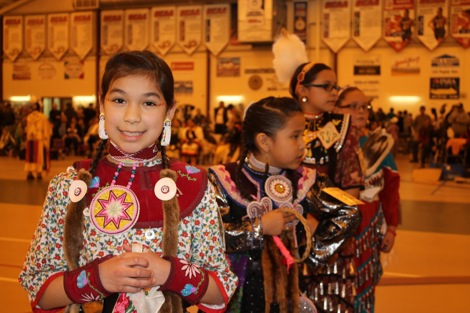 Algoma University's George Leach Centre is the site of the Gathering at the Rapids Pow Wow today and Sunday.

This is the 8th annual such event, hosted by Algoma University and Shingwauk Anishinaabe Students Association, featuring lots of colourful Anishinaabe clothing, drumming, singing, dancing, arts and crafts and food.

Algoma University's Anishinaabe Events Coordinator Margaret Neveau told SooToday.com the annual Pow Wow gets bigger and better every year.

"Our first Pow Wow was on the front lawn at Algoma University. We used to hold it every year in September, but for the last four years we've held it at the George Leach Centre in March."

Everyone is welcome, Neveau told us.

"We encourage our professors at Algoma to celebrate with us and let their students know about the Pow Wow. The international students here have made Algoma an international hub. Our Anishinaabe students make friends with them in their classes and invite them along."

The Pow Wow includes dancing competitions for all age groups, from young children to seniors, with competitions to be held all day Saturday and Sunday.

Prizes for dance competitions include cash prizes.

About 350 people were expected to enjoy a feast scheduled for 5 p.m. Saturday.

Smokeytown is the host drum group, and hail from Menominee Nation in Wisconsin.

Co-host drum group is Bear Creek, of Sault Ste. Marie, Ontario.

"It's always great to hear the hometown boys play," Neveau said.