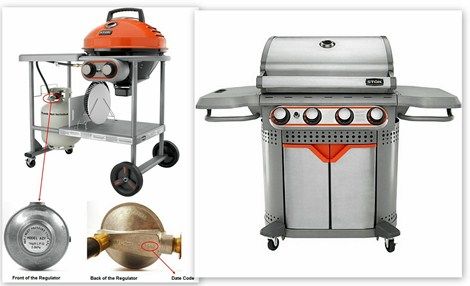 NEWS RELEASE
HEALTH CANADA
*************************
Recall Notice
Date : April 18, 2012

Product name: gas grills

Joint recall with Health Canada, the United States Consumer Product Safety Commission (US CPSC) and One World Technologies, Inc.

Full product description

This recall involves STOK Island and STOK Quattro gas grills.
Only the STOK Quattro gas grills were sold in Canada.
The STOK Quattro gas grill is a rectangular, four-burner grill.
STOK is printed on the grill's lid.

To identify whether a specific Quattro grill is included in this recall, you will need to look at the grill's regulator.
The recalled grills have regulators on them with the model number "AZF" on the front and a date code between 1046 and 1143 on the back of the regulator.

Hazard identified
The regulator on the grill can leak propane gas, which can ignite, posing a fire and burn hazard to consumers.

The firm is aware of 569 reports of regulators leaking propane gas.
No injuries have been reported.

Health Canada has not received any reports of incidents or injuries to Canadians related to the use of these gas grills.

Corrective action
Consumers should immediately stop using the recalled grills and contact One World Technologies to obtain a free replacement gas regulator for the grill.

For more information, consumers may contact One World Technologies toll-free at 1-800-867-9624 between 8 a.m. through 5 p.m. ET Monday through Friday, or visit the firm's website.

Consumers may view the release by the US CPSC on the Commission's website.

Number sold

Approximately 1,386 of the recalled gas grills were sold at Home Depot stores in Canada.

Approximately 87,600 of the recall gas grills were sold at Home Depot stores and Direct Tools Factory Outlet stores in the United States.

Time period sold

The recalled gas grills were sold from March 2011 to February 2012 in Canada and in the United States.

Manufactured in China.

Companies
Importer
One World Technologies, Inc. of Anderson, South Carolina
*************************