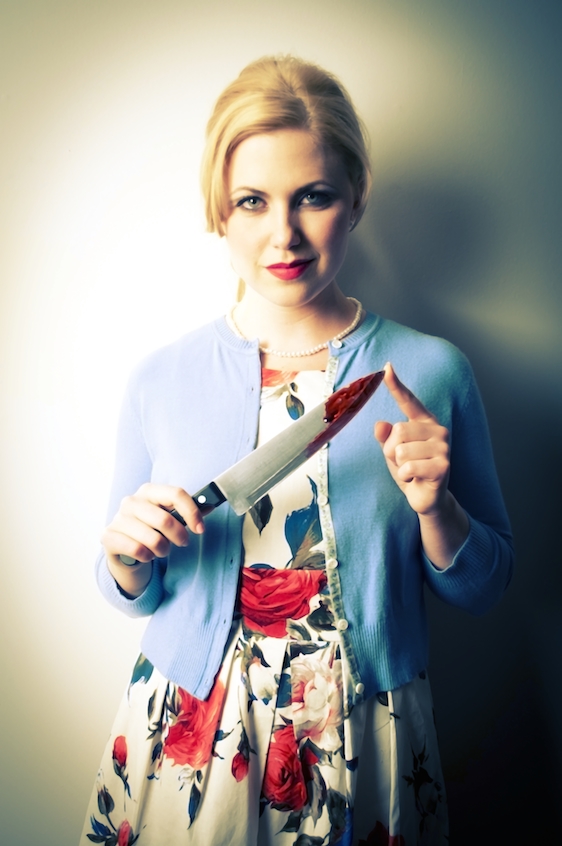 Former Saultite Tianna Nori is really expanding her reach, playing characters ranging from a psycho Stepford girlfriend to an ex-cop who was beaten in the line of duty and ends up in a wheelchair.
Nori recently starred in the thriller Clean Break (available on iTunes/VOD), which follows main character Tracy as the classic Stepford woman with a dark edge.
"Tracy wants the perfect life and she will do whatever it takes to get it," said Nori. "With sociopathic tendencies, she won't stop at any rate to achieve her goals, even if her actions cross the line of morality."
In her pursuit of love-interest Scott, Tracy encounters an obstacle in the form of Scott's best friend Cam.
"Cam keeps getting in the way of what Tracy wants. She only knows one way to make the problem stop and that is by 'killing' lose ends."
Nori describes Tracy as a very dynamic character, "She's easily triggered by emotions and is torn between extreme personalities of herself, causing a whirlwind of inner confusion and anger."
Nori was coached in method acting and studied movies like Fatal Attraction to become more familiar with the role.
She also just wrapped up filming The Demolisher, where she plays the main character Samantha.
She was offered this role right after her work in Clean Break, which won an award at the Atlanta Horror Festival.
"Samantha is an ex-cop who was brutally beaten by a gang in the line of duty, and ends up in a wheelchair. This leads to her loving husband Bruce wanting revenge and justice for what was done to her. The movie follows our relationship and it's a very slow burn genre film. I absolutely love [director] Gabriel Carrer's style," said Nori.
She was eager to tackle this role, being familiar with the experience of immobility.
"It was an opportunity that I was so excited for. I had a lot to draw from in this role because I actually fractured my back in the movie Clean Break," said Nori. "Also, when I was filming in Guatemala last year, I fractured my ankle and severed three ligaments. The Doctor told me I might not be able to walk normally again. I was devastated and felt like I had to prove him wrong, so I drew on that strength."
The St. Mary's College grad still has a connection with the Sault, and fondly remembers how she started out in the business.
"Growing up in the Sault, I knew I wanted to be an actress and my first role was in the musical production of Annie. I worked with Theatre SMC a lot and Joseph Lauzon, who I still keep in touch with."
Nori is keeping the momentum going with an upcoming role in Save Yourself, where she plays a gothic rocker actress who goes on a road trip with her girlfriends that takes a turn for the worse.
She is also working on a project with cousin Greg Nori, Treble Charger frontman and music producer, that is still in development with VAPR Media.
(PHOTO: Tianni Nori as Tracy in Clean Break. Provided Diana Piruzevska)