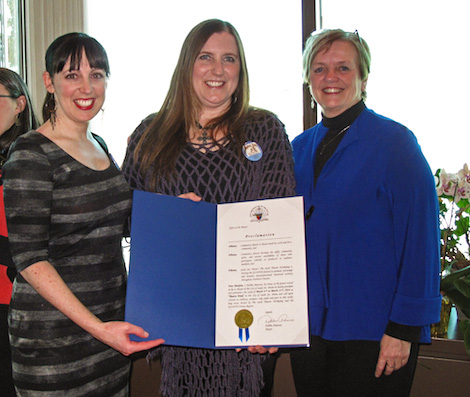 The 2014 QUONTA Theatre Festival officially kicked off last night with a reception at City Hall followed by a performance of the Sault Theatre Workshop's Incorruptible at the Kiwanis Community Theatre Centre.

This year's festival includes productions from Gore Bay Theatre (Crime and Punishment), Take Two Theatre from Timmins (Agnes of God), and Gateway Theatre Guild from North Bay (Glengarry Glen Ross).

Kristy Wilson, festival co-chair

"This is a chance to see plays that you wouldn't normally see from fresh faces and new actors and directors. They all do excellent work," festival co-chair Kristy Wilson told SooToday.com. "Part of the beauty of this festival is it's a chance for theatre groups to connect with one another."

Adjudicated by John Kelly, owner/operator of SevenThirty Productions in Ottawa, QUONTA continues with a variety of workshops and nightly performances until Saturday, March 16.

Kelly will also host two workshops - Theatrical Movement and Comedy Tomorrow, Comedy Tonight - in the Thompson Suite at the Delta Hotel.

Additional workshops include soapstone carving with Winter Festival of the Arts Best of Show recipient Phil Jones, stage voice with Shauna Major, and Beat the Drum with Suzanne Cuthbertson.

For a complete schedule of workshops and performances, please click here.
Pictured: Festival co-Chairs Kristy Wilson and Randi Mraud with Mayor Debbie Amaroso. Photo provided by Ron Wilson.
Gallery photos by Donna Hopper for SooToday.com