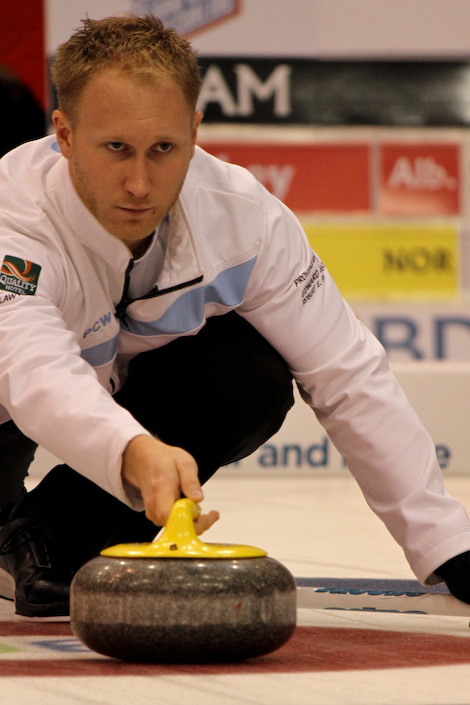 "Tight final game, but we made the last shot to secure our 4th consecutive Tim Horton's Brier appearance #jacked #brierbound"

That was the tweet broadcast from Team Jacobs just before 10 a.m. Sunday morning as the Soo Curlers Association representatives swept the Dominion 2013 Men's Northern Ontario Curling Association (NOCA) Provincials in Nipigon, Ontario 8-0.

Coached by Tom Coulterman, Brad Jacobs (skip), Ryan Fry (third), E.J. Harnden (second), and Ryan Harnden (lead) began the five-day round robin on Wednesday, February 6 by dominating Team Chandler 7-3.

Team Jacobs maintained its position throughout the competition, posting the following results:
Draw 2 - Jacobs 5, Gordon 4
Draw 3 - Jacobs 7, Burgess 2
Draw 5 - Jacobs 7, Dumontelle 4
Draw 6 - Jacobs 9, Currie 4
Draw 7 - Jacobs 2, Bonot 1
Draw 8 - Jacobs 8, Hackner 7
Draw 9 - Jacobs 7, Jakubo 2
Teams Jacobs and Gordon met in the final round Sunday morning for a tight match up that saw the Jacobs rink win a 2013 Brier spot with the last rock - a hit and stick - in the 10th end to edge out Rob Gordon 6-5.

The 2013 Tim Horton's Brier takes place in Edmonton, Alberta March 2 to 10 at Rexall Place.

Team Jacobs is scheduled to meet Team Koe of the Northwest Territories/Yukon in the first draw of the Canada-wide curling showdown at 1:30 p.m. on March 2.

Full text of a news release issued today by the 2013 Tim Horton's Brier follows.

***************************
The field's almost full for the Brier

After a dramatic day of provincial play across the country February 10, only one spot is open for the 2013 Tim Hortons Brier - the Canadian Men's Curling Championship - March 2-10 in Edmonton's Rexall Place.

Seven finals were staged Sunday, and the qualifying teams include some of the biggest names in the game.

The most important result of all for Edmonton fans came in the Alberta playdowns in Leduc where Kevin Martin defeated Kevin Koe to win a record 12th provincial championship.

It marks a special one for Martin who makes his first hometown appearance in the Brier.

Martin will be shooting to become the first player to skip five Brier champions, surpassing the records of fellow Albertan Randy Ferbey and Saskatchewan legend Ernie Richardson.

In Ontario, defending Tim Hortons Brier and world champion Glenn Howard captured his eighth consecutive provincial championship.

Howard will be bidding for his fifth Brier title in a record-breaking 15th appearance, moving ahead of his brother Russ.

Jeff Stoughton is coming back to represent Manitoba at the Brier for a 10th time, taking aim at a fourth championship.

Brad Gushue, 2006 Olympic gold-medallist, still looking for a first Brier Tankard, will be also be making his 10th trip to the national championship for Newfoundland/Labrador.

In Northern Ontario, Brad Jacobs earned a seventh showing at the Brier and Paul Flemming qualified for his sixth out of Nova Scotia, scoring a single in the 10th end to defeat defending champ Jamie Murphy.

The final game of Sunday play came on the west coast where Andrew Bilesky defeated Brent Pierce - former Brier and world champion - for a first trip to the national stage.

Prince Edward Island is the only province yet to declare its representative, with weekend playdowns delayed due to weather conditions.

Early qualifiers include 2006 champion Jean-Michel Ménard of Quebec, Jamie Koe of the Northwest Territories/Yukon, James Grattan of New Brunswick and Saskatchewan's Brock Virtue.

Closer to home, two big curling competitions are coming up for fans in the Edmonton region... it's easy to qualify and entry is free.

The Jam Can Curling Championships will be on the outdoor ice February 20-21 at City Hall.

It's the chance to bring back the days when so many curlers got their first chance to play the game.

Register your team by email at melissabanks363@gmail.com or sf.miskiw@gmail.com.

The Cool Shots public playdowns will be underway Saturday, February 23 from 11 a.m to 4 p.m. at the West Edmonton Mall.

Just drop by and sign up to play the tabletop version of the roaring game!

"You Gotta Be There" for the excitement of the 2013 Tim Hortons Brier.

It's shaping up to be one of the best fields in the history... get your tickets right away by clicking here.
***************************