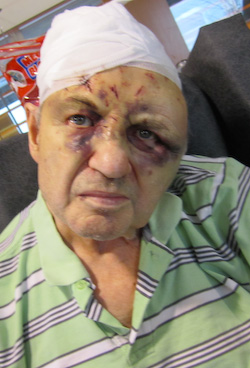 Many SooToday.com readers will remember Mr. Frank Piccolo from his 30 years teaching at Korah Collegiate and Vocational School and three years at St. Marys College.
They may also remember his wife, Theresa Piccolo from her years as a teacher at Mount St. Joseph Collegiate and Vocational School.
If any of them had been to Lakeside Long-Term Care facility in Toronto this summer, it's likely they would have seen Mrs. Piccolo picketing outside the facility to protest the neglect and abuse her husband suffered in the facility in the years before his death in that facility on May 26, 2012.
She would have been carrying a sign that read: "Stop Violence in Long-Term Care."
Nearly 13 years ago, Mr. Piccolo was diagnosed with Parkinson's disease and he subsequently developed dementia.
In 2007, at the age of 63, Mr. Piccolo became a resident at Lakeside Long-Term Care Facility in Toronto, Ontario.
The full story of what happened to him there and what was, or more precisely wasn't done for him will be the subject of a segment of this Saturday's broadcast of W5 and a story in this Saturday's edition of the Saturday Toronto Star.
Mrs. Piccolo says the first two years of Frank's residency went well, but problems developed thereafter.
She began to notice his hair and nails were untrimmed and there were other indicators of declining care as well.
Then, when Frank's physician changed his dosage of medications, Frank suffered a heart attack and seizures.
While being treated for those problems at Mount Sinai Hospital in Toronto, Frank was struck with C. difficile.
Once he had recovered sufficiently from these problems, he was returned to Lakeside, but the facilities at Lakeside were inadequate to care for him in his condition and he went to Toronto General Hospital to continue his care.
He lost his ability to speak and was confined to a wheelchair by the time he, once again, returned to Lakeside and, over the next two years, his care improved remarkably after the facility came under the leadership of a new Director of Care.
That Director of Care moved on and, under a new Director of Care, Frank's quality of care took a nose dive, said Mrs. Piccolo in an interview with SooToday.com.
On February 18, 2012, he was attacked in his room twice by another Lakeside resident (a female).
"My husband couldn't defend himself or yell for help," she said. "When they found him, there was blood spread around the room and his clothing was soaked with blood."
Mr. Piccolo was sent to St. Joseph's Hospital for treatment of the wounds he sustained in the viscous attacks.
He required stitches for some of the cuts to his head and face and, after spending 13 hours at St. Joseph's, the Piccolos returned to Frank's room at Lakeside only to find it as they left it - covered in blood.
Over the course of the next few days, Frank's eyes blackened and evidence of more serious underlying damage to his face became apparent.
Police were called to investigate but no charges were laid and Mrs. Piccolo said that no senior staff at Lakeside came to check on Frank, either.
The couple's daughter, Christina McCarthy, took four days off work to come down to Toronto and help care for him.
The two women received no government assistance and little staff support in their efforts to care for Frank, whose condition was obviously declining.
Mrs. Piccolo ended up hiring a personal support worker to help care for Frank during the rest of his time at Lakeside.
"I couldn't get over the callousness of the way he was treated. It was as if he didn't exist," she told SooToday.com.
"The care was abominable."
In May, some 12 weeks after the attacks, Frank was moved to a different floor and away from his attacker but it was too late for him.
"They killed the desire to live and he stopped eating," said Mrs. Piccolo.
Frank died on May 26, 2012.
Lakeside settled a lawsuit with Mrs. Piccolo, the details of which are confidential, but Mrs. Piccolo remains unsatisfied with Lakeside's response to what happened to her husband and the lack of response she received from government offices, the coroner's office and others she contacted.
All of her letters went unanswered and she says she will be returning to picket outside the place she believes killed her husband, when she trusted it to care for him.
Visit the W5 and Toronto Star webpages for more information on the upcoming broadcast featuring Frank and Theresa Piccolo's full story.