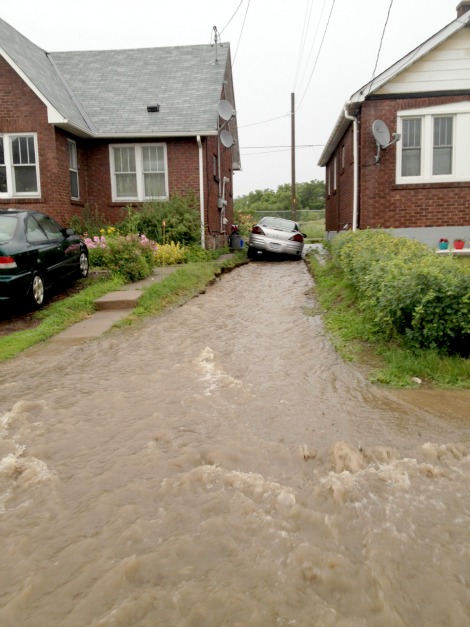 While Sault Ste. Marie and area could be in for a nasty storm this weekend, it isn't expect to lead to flooding, says the Sault Ste. Marie Region Conservation Authority.
Rhonda Bateman, the Conservation Authority's general manager, said rain forcast for this weekend is considered a "normal" situation.
"As long as the storm doesn't develop into a 1-in-100-year storm, we should be OK," said Bateman.
While last year's flooding may still be fresh in people's minds, conditions this year are not at all the same, said Bateman.
"We've had a dry summer. Last year at this time, we had received so much rainfall there was nowhere for more to go," she said.
This year, rivers and creeks are low and the ground has capacity to absorb water, Bateman said.
She said the only flooding concern is in muncipal areas where drainage may be poor and catchbasins blocked.
More on the Conservation Authority's flood outlook for this weekend is included in the following news release:
**************************
The Sault Ste. Marie Region Conservation Authority would like to issue a statement to residents in regard to current watershed conditions.
The current weather forecast indicates that precipitation amounts of 20-50 mm are expected to fall over the Sault Ste. Marie area over the next 36 hours from Friday morning in to Saturday with the potential of an additional 15-25 mm in thunderstorms overnight Friday.
There has been very little precipitation recently and the ground conditions are ideal to absorb some of the predicted rainfall amounts.
The local streams and rivers in our watersheds are currently flowing at below seasonal levels and have the capacity to accept precipitation and runoff from the anticipated rainfall amounts.
The current watershed conditions differ greatly from last year's flood event.
If the predicted thunderstorms occur during the overnight Friday in to Saturday morning, there may be localized flooding in areas of poor drainage.
The areas of poor drainage include areas of the City of Sault Ste. Marie where catch basins may be blocked.
The amount of runoff anticipated from this rain event is expected to raise water levels significantly in the short term but river and stream flooding is not anticipated.
The flood control channels owned and maintained by the Sault Ste. Marie Region Conservation Authority are currently flowing well below normal.
The flood control channels will experience a rise in water levels.
It is important to remember that the water in rivers, streams and the channels will be fast flowing during and after the rainfall event.
The Sault Ste. Marie Region Conservation Authority will continue to closely monitor stream flows across the watershed.
The Sault Ste. Marie Region Conservation Authority would like to extend a warning to residents and visitors to use extreme caution when close to rivers, creeks and channels.
Potential increases in water levels and flows can be especially dangerous and stream banks can be slippery.
Please keep children and pets away from fast flowing rivers and streams.
This bulletin will be updated if conditions warrant.
This statement is in effect until Sunday August 31, 2014.
**************************
(PHOTO: Last year's wet summer saturated the ground, leading to flooding when the city experienced heavy rains. The Conservation Authority says those conditions do not currently exist.)