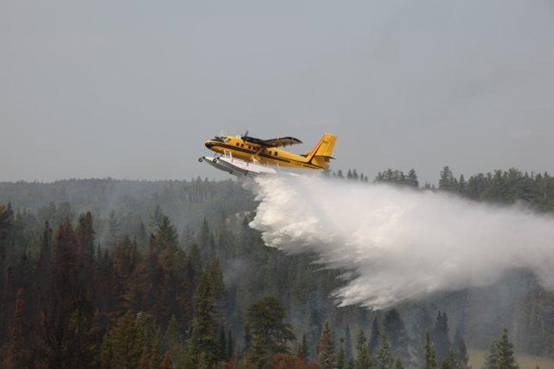 NEWS RELEASE
ONTARIO MINISTRY OF NATURAL
RESOURCES AND FORESTS
*************************
Northeast Region
New Fires
Two new fires were reported on August 9.
One has since been confirmed out, with Cochrane 13 being observed at 5.0 hectares.
As of the time of publication, three new fires have been confirmed on August 10.
All are currently listed as not under control, but are not expected to threaten people or values.
Two of these are in the Sudbury area, and the third is located in the Bancroft area on the northeast shore of Loom Lake, west of Kawartha Highlands Provincial Park.
Fire Hazard
The hazard for the Northeast Region currently ranges from moderate to high, with areas of greatest concern concentrated around Georgian Bay, Lake Superior and the Quebec border.
There is a chance of showers and thunderstorms across the north, with regions south of Moosonee remaining mainly sunny with temperatures once again in the high twenties.
The north will continue to experience a risk of showers and thunderstorms through Monday evening.
Areas south of Timmins and east of Elliot Lake will remain sunny.
Regional Synopsis
There are currently ten active fires, none of which present an immediate danger to people or values.
Active fires reported before August 10 are either being held, being observed or are under control.
To date this season, 154 fires have been confirmed, burning a total of 4,159 ha of land.
Out of Province Deployment
There are now 252 personnel from the Ontario Ministry of Natural Resources and Forestry on assignment in British Columbia (127) and the Northwest Territories (125) to assist in ongoing forest fire management efforts.
Ontario has also provided equipment including 430 power pumps, 41 portable relay tanks, 6,000 lengths of hose and two values protection units to British Columbia.
*************************