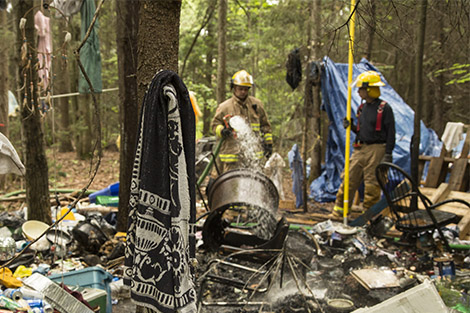 Fire crews responded to black smoke in a wooded area off Trunk Road Monday afternoon.
They found an apparent squatter's camp about 100 feet from the edge of the woods.
"It looks like he was burning something, maybe the casings off wires," said Sault Ste. Marie Fire Service platoon chief Damon Ferris.
Bags of garbage, cans, bottles, nails, pornography, shopping carts, tire rims - seemingly everything and anything - could be found within the camp.
"He's got something like a recycling depot back there," said Ferris.
The owner or owners of the camp were not in the immediate area when fire crews responded.
Clothes were hung out to dry and a tarp was hung over a couch, creating a makeshift shelter.
Firefighters quickly extinguished the small fire and left the scene before police could arrive.
City police are investigating the incident but were not immediately available for comment.