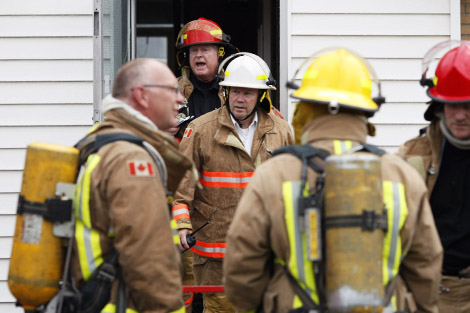 A smoke alarm and 911 call alerted the Sault Ste. Marie Fire Service to an apartment fire Tuesday afternoon on MacDonald Avenue.
"We got into one of the apartments and there was a lot of smoke in the apartment," said Platoon Chief Dave Lang at the scene.
Lang said the tennant was not home at the time of the fire and nobody else in the building was injured as a result of the fire.
"We monitored all of the carbon monoxide that was on all of the levels before we allowed anybody to go back in," said Lang.
Although there was a lot of smoke in the unit when fire services attended, Lang said the fire was not large and was under control fairly quickly.
The cause of the fire is still under investigation.
PHOTO: Firefighters with the Sault Ste. Marie Fire Service attend a fire July 22, 2014 on MacDonald Avenue. SooToday.com/Kenneth Armstrong