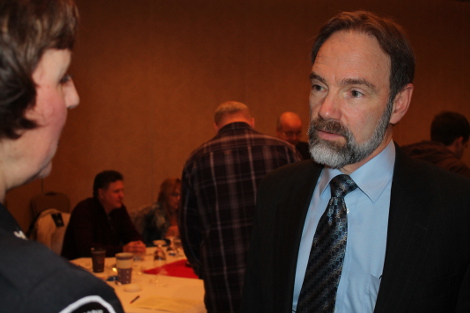 Joel Feldman is a U.S. lawyer who has worked for the last 30 years representing those who have been injured, or families who have lost loved ones through the dangerous driving of others.
Tragically, Feldman's own daughter Casey was killed by a distracted driver in July 2009.
She was 21 years old.
"She was walking across the street in broad daylight at a crosswalk, and a 58-year-old man was reaching across his van to get to his GPS and he rolled through the stop sign and hit her at the crosswalk and killed her."
Feldman, of Springfield, Pennsylvania, was a speaker at the 31st Annual Crime Prevention Seminar Wednesday, hosted by Sault Police and held at the Delta Sault Ste. Marie Waterfront Hotel.
Feldman will be speaking to students at White Pines Collegiate Thursday at 10:30 a.m. about the dangers of distracted driving (driving while speaking on a cell phone, texting and other activities that can lead to tragedy if performed while behind the wheel), followed by a presentation to students at St. Mary's College at 12:15 p.m.
While he and his wife grieved over Casey's death, Feldman began to examine human behaviour in terms of how it relates to driving.
"You question everything when your child is killed and as I began to think about 'how did this happen, why did this happen' it dawned on me I had driven distracted hundreds of times," Feldman said to SooToday.
"I started looking at my own behaviour and started working with different people, law enforcement principally, trying to educate teens about distracted driving (though Feldman emphasized people of all ages can get distracted while driving)."
"As I was talking to some kids and telling the sad story about my daughter and all the promise she had and how excited she was about life, I just wondered if telling a sad story was enough."
Feldman said that led him to undertake a great deal of research in cooperation with behavioural psychologists and teen experts to address what is necessary to change people's attitudes and behaviours as they pertain to how they drive.
Feldman then began postsecondary school studies in counselling and started up a program called End Distracted Driving.
Through travelling and giving his own presentations, and with the help of partners across Canada and the U.S. giving presentations, Feldman said thousands of teens and adults have heard his End Distracted Driving message over the past two years.
Feldman says he spends "about 60 percent" of his time on his campaign.
"It's important for me my daughter is not forgotten and I get to tell her story to thousands of people…it's a special way to remember my daughter."
"The presentation I give in the schools is to reach kids on different levels," Feldman said.
"Someone might say 'I've had a close call and I don't want that to be me," or someone else could say 'I couldn't live with myself if I killed someone else's child.'"
"I'm not letting adults off the hook because sometimes adults are not good role models for their children and that's an issue in itself, but how do you get the kids with the message 'friends don't let friends drive drunk, shouldn't it be the same with friends don't let friends drive distracted.'"
"We have to talk about the risk…it (an accident resulting from distracted driving) takes just a few seconds," Feldman said.
"Talking on your cell phone or texting while driving is like playing Russian Roulette…and no one thinks it can happen to them."
Feldman said he wants parents and their children who are young drivers to keep an eye on each other's driving habits.
Feldman remains upbeat that teens will get the message.
"I think they're getting it and they're going to change the way we drive…10 years from now kids will not be driving distracted."
Meanwhile, Sault Police Sgt. Ray Magnan told Wednesday's audience (which consisted of law enforcement officials, municipal politicians and community service agency staff) that distracted driving is as serious a threat to public safety as impaired driving and speeding.
Magnan said Sault Police are keeping an eye out for distracted drivers locally and slapping them with fines.
Officers, dressed in civilian clothing, patrol on foot near busy intersections to spot distracted drivers.
Officers in unmarked vehicles are patrolling the streets on the lookout for those speaking on cell phones or texting, Magnan said.
While hands free devices are permitted to speak with others while driving, using handheld devices to speak, email or text while driving (except for 911 calls) has been banned in Ontario since 2009.
Currently, fines for distracted driving range from $60 to $500.
The provincial government has introduced legislation which, if passed, would increase the maximum fine for distracted driving to $1,000 and impose three demerit points upon conviction.
(PHOTO: U.S. lawyer Joel Feldman speaks with Sault Police Service Staff Sgt. Jane Martynuck at the 31st Annual Crime Prevention Seminar, held at the Delta Sault Ste. Marie Waterfront Hotel. Darren Taylor/SooToday)