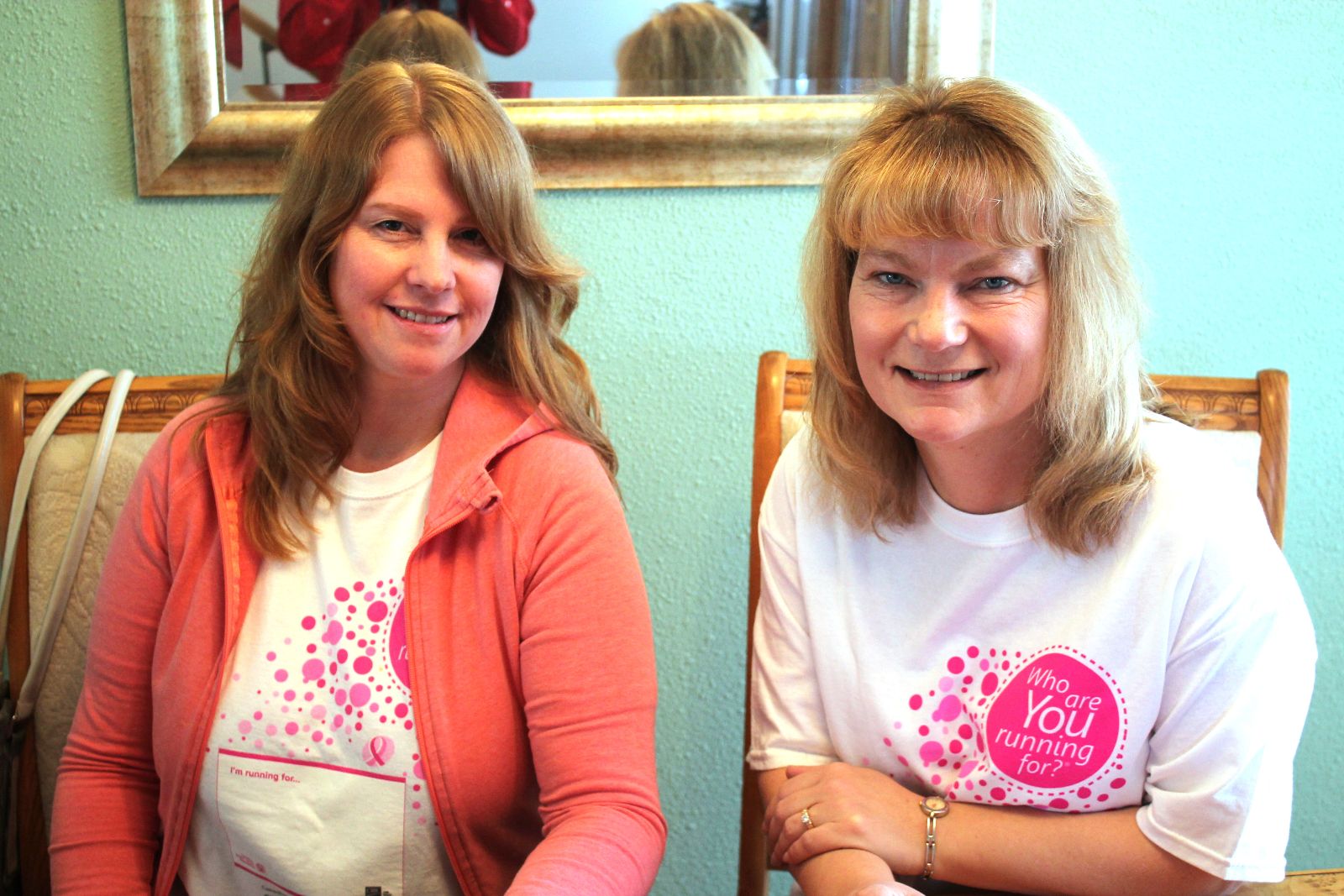 It is a disturbing reality that just about each one of us has had a loved one or friend who has died of cancer, has already survived a battle with it, or has been struck by it ourselves.
Team MADS (Mothers, Aunts, Daughters, Sisters) is a group of Sault Ste. Marie women dedicated to raising funds for breast cancer research.
For Team Captain Heidi McLeod, the fight against breast cancer is intensely personal.
McLeod, pictured here at right with team member Janet Morrow at left, has seen her family devastated by the disease.
McLeod started fundraising for breast cancer research by taking part in the 2009 Canadian Breast Cancer Foundation CIBC Run for the Cure after losing her sister Suzanne to complications from breast cancer that same year.
McLeod, speaking to SooToday.com, fought back tears as she told us "I now have another sister who is dying, and she will not be able to participate in this year's Run."
"My sister (Theresa), the cancer has gone to her brain and has palliative care come to her home three times a week, and it started in 2007 with breast cancer."
"She has been a trouper, she was in last year's Run for the Cure…but this year I don't believe she's going to be with us."
McLeod has another sister in Southern Ontario who had a fight with breast cancer, but thankfully has been a survivor since 1997.
Heidi herself had a harrowing experience a year and a half ago.
"They found a lump, and I had a mammogram. I went through all the waiting, the anxiety. I'm fine, but I'm still watching and being proactive, I'll keep going for mammograms."
McLeod participated in 2009's Run for the Cure herself, but decided to form a team for 2010's event.
We (Team MADS) are quite proud of ourselves," McLeod stated enthusiastically.
"We raised $901 in 2010 (in online donations alone). So we were pretty hyped up, and the next year, 2011, we did it again and the online total was $2,595, and last year we raised $4,310. We're looking forward to 2013's Run."
The Medicine Shoppe Pharmacy at 59 Great Northern Road is a sponsor of McLeod's team.
In the meantime, though McLeod appreciates the vital importance of Run for the Cure and the funds it raises, she and her group want to raise funds on an ongoing basis at events throughout the year, not content to sit and wait for this fall's Run on October 6.
"We've planned certain events throughout the year. We can't just wait for the event in October. For instance, last year we had a couple of car washes, a purse swap and bake sales. We can't just do it all at once in October and expect the fundraising results we want."
"We start off in January as a team and brainstorm ideas," McLeod told us.
"We have events to raise funds to kick cancer in the butt."
First up is a Think Pink Purse Swap, scheduled for Sunday April 28 at Rosedale School on Chapple Avenue, 1 p.m. to 4 p.m.
Of McLeod and her boyfriend Scott Hall, friend and MADS team member Janet Morrow says "I like their drive. They're tireless."
Morrow's family has also been struck by cancer in various forms, and she dedicates her talents to MADS in many capacities, including purse-maker, and is looking forward to the April 28 Purse Swap.
Each of Morrow's purses is hand-made and no two are alike.
Here's an interesting note: Morrow's purses are made out of bras!
"it's a social event. Bring a good, used purse. Some women have as many as 10 to 15 purses. Put all your purses on the table, and leave with a new one," Morrow told us.
A special auction item will be a new Coach purse.
Admission is by donation, and all funds go, of course, to breast cancer research.
Team MADS held a Purse Swap in August 2012, but this year the event is being held this month, because MADS found last August people were already committed to many other events and causes.
McLeod added Staples is tentatively on board to hold a car wash fundraiser for MADS May 18.
Other MADS events planned are a Pub night in June, although a specific location and date have not yet been determined.
Another car wash fundraiser, to be held at Home Depot, and a bowling fundraiser are also in the works.
In the meantime, McLeod told us, MADS team members are gathering pledges throughout the year.
For a view of other goods McLeod and her team have for sale, see below.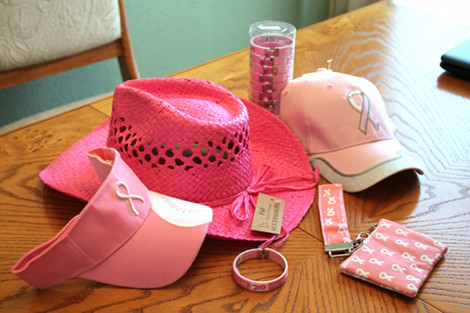 "If I push myself to fund raise, it'll push the researchers, let's push the issue. The faster we push the faster results will come" McLeod told us.
Morrow said "now that we're more aware of breast cancer, more women will be tested. We can treat it at earlier stages, so we probably have a greater survival rate. Because of better awareness, we can know about breast cancer before it's too late."
McLeod's boyfriend Scott Hall told us "each and every one has a cause. Pick a cause and do what you can for that cause. Cancer is a big killer. I've had breast cancer in my family. If we can find a cure for it, we can find a cure for all cancers."
Heidi and Scott carry on their fundraising efforts throughout the year because, as Scott says "cancer doesn't stop, why should we?"
McLeod said she believes "once we have a cure for this cancer, cures for other cancers won't be far behind."
"For Scott and I, this is our life, we're always fundraising and thinking of ideas."