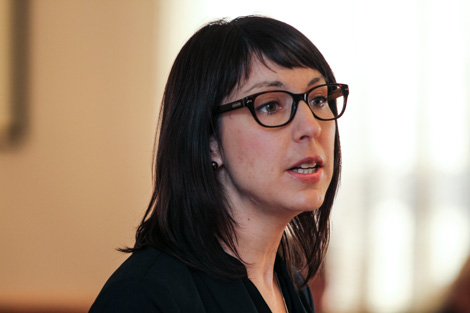 Last evening during a special public meeting of the Algoma District School Board (ADSB), trustees heard from three members of the Accommodation Review Committee (ARC) for Etienne Brule Public School - Reverend Pamela Rayment (pictured) from St. John the Evangelist Anglican Church, Ward 4 City Councillor Lou Turco, and parent Tracey Hilderley.

While senior ADSB administration recommends relocating existing Etienne Brule students to other schools in the area, the Accommodation Review Committee cited a number of reasons to continue operating the school, including its continuously increasing academic success, convenient location, community value, and the overall good condition of the facility.

Located on Albert Street West, Etienne Brule is the only elementary school that remains in the Sault's downtown area.

Citing decreasing enrolment, the ADSB has in recent years removed Grades 4 through 8 from Etienne Brule in order to avoid triple grades.

Should ADSB trustees vote to close the school, it recommends using the facility for existing and expanded community programs and services while relocating existing students to other area schools, the most viable being Wm. Merrifield, Kiwedin, Queen Elizabeth, or Northern Heights.

A report regarding the possible closure of Etienne Brule was submitted to ADSB trustees for consideration.

Many of the recommendations contained within the report directly contradict those put forth by the ADSB senior administration.

"In our recommendation, the community element and additional Board programming was put forth primarily because Etienne Brule is, first and foremost, an educational facility. The community and Board programming would then offer additional benefits to the students already present in the outstanding educational community that is Etienne Brule," said Reverend Rayment in her presentation.

"A daycare and on-going summer programming for children in this location would be helpful to the residents in this area of our city," she continued. "But the residents include the students of Etienne Brule, and a partnership between education and community, we believe, would expand students' horizons. Moving the students, in our opinion, defeats this goal."

Hilderley, a parent of an existing Etienne Brule student, expressed her agreement, stating: "If it wasn't for the Parent Family Literacy Centre at Etienne Brule, I'd still be lost [as a parent] today and might not have felt as comfortable introducing my four-year-old to the world of acquiring education. What a wonderful service and program for parents to go and grow with their children. It is absolutely imperative that this program stay right where it is as the need for it in the downtown area is quickly growing."

It was also noted during last night's presentation that the closest and most likely school for the relocation of students, Wm. Merrifield, ranks lower than Etienne Brule according to the Fraser Institute's measure of academic performance.

In fact, from 2009 through 2013, Etienne Brule has consistently increased its Fraser Institute academic ranking.

"Given this, we struggle to see the benefits of moving students from Etienne Brule where they are receiving not only a commitment to ongoing improved academic achievement, but are also thriving socially in their current environment," Reverend Rayment told trustees.

The ARC recommends extending provisions currently offered at the school to include Grades 4 through 6 and suggest including students from other schools that are not functioning to capacity as early as September 2014.

Benefits of maintaining and even expanding Etienne Brule include access to early childhood education, recreation programs, community development, neighbourhood engagement, childcare opportunities, parenting programs, and the encouragement of overall health and wellness, Reverend Rayment explained.

Turco spoke to trustees of the history of education in the downtown area and the benefits of proposed downtown improvements, developments and community initiatives.

"The City is undertaking targeted capital improvements throughout the downtown to encourage a sense of place, including street scape improvements throughout the downtown community, park development, and to develop and create a better residential environment, which means families," he said. "The proximity to a school is a major consideration for many people when choosing where to live."

At the February 3, 2014 meeting of City Council, a motion was carried that cited City and private sector commitments to downtown development projects, and stated that "City Council request the Algoma District School Board to consider the negative effects on both the existing and future residential development in the downtown area associated with the possible closure of Etienne Brule public school as part of the accommodation review process."

ADSB trustees will take the next 60 days to review the report and recommendations presented by the ARC and City Council before making its final decision.

To review ARC and ADSB administration reports regarding Etienne Brule, please click here.