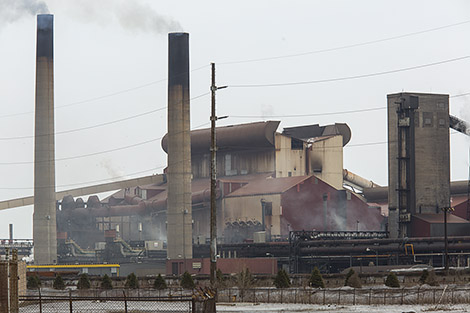 NEWS RELEASE
SAULT STE. MARIE CONSTRUCTION ASSOCIATION
*************************
Local Construction Industry Faces Significant Ramifications Due to Essar CCAA Protection
The Sault Ste. Marie Construction Association is facing some serious concerns due to Essar Steel Algoma's recent filing for CCAA protection.
This has caused many stresses and hardships for a significant portion of those involved in the local construction industry.
As a result, many Construction Association members are facing uncertainties with regards to how their businesses are going to survive and maintain current levels of employment.
"Large sums of money, ranging from tens-of-thousands to millions of dollars, are owed to our members for the goods and services that they have provided to Essar Steel Algoma prior to them entering into this protection. Many of the values on the original list of creditors that was issued by Ernst & Young are not current and are nowhere near the actual amount they are owed. In some instances, the amount owing is double what was listed on this report. As a result, some of our local Construction Association members have already begun laying off their employees and are looking for other means to cut their overhead," stated SSMCA manager, Adam Pinder.
Within the Association's membership there are hundreds of employees who work thousands of hours per month directly for Essar Steel Algoma.
Their employers have paid these workers and have equipped them with the necessary tools and supplies for the jobs.
The employers have put out this money, with the agreement that they would be paid by Essar Steel Algoma for the work that was completed.
As a result of the terms and conditions of the CCAA protection, Essar will not be paying these construction businesses the amount of money that is actually owing to them.
This creates tremendous problems for the companies absorbing the loss.
These organizations are forced to make significant changes to their businesses or they may cease to exist.
For example, they are now being forced to amend their financial plans as banks claw back on their lines of credit.
Bonding companies are also reviewing these businesses and are limiting their bonding capacity.
This affects their ability to perform jobs that are unrelated to Essar Steel Algoma.
Sault Ste. Marie is yet to feel the full effect that this situation will have on our local economy.
Within our association of approximately 150 members, the businesses are owed well over 25 million dollars combined.
The number of local employers affected by this protection extends beyond those listed on the Ernst & Young creditors' list.
It is important to acknowledge that businesses within Sault Ste. Marie have relationships with other companies that are based outside of our city.
They employ local people, sub-contract local companies, and purchase from local suppliers.
Although some of the creditors on the list are located beyond our city limits, it is essential to recognize that their losses will have a negative impact within Sault Ste. Marie as well.
In addition, the Construction Association believes that Essar Steel Algoma should not receive the provincial and federal Modernization Grants if the contractors who performed that work for them are not being paid.
Rather, these governments should consider paying the grants to the contractors who are owed for their services.
The Construction Association is hopeful that all levels of government will work to assist the creditors who are going to significantly struggle due to this process, as well as to improve conditions in the global steel market.
It is misleading and inaccurate to believe that only Essar Steel Algoma is in need of help.
A countless number of smaller organizations are now being forced to shoulder a burden that many of them cannot afford.
Essar Steel Algoma relies on many of these businesses in order to produce their product.
The expertise and skills of these construction businesses are essential to the production of steel in Sault Ste. Marie and should be compensated for the services they have provided.
The Sault Ste. Marie Construction Association brings together in a single organization general contractors, trade contractors, manufacturers and suppliers of construction materials and equipment, as well as other firms associated with the Construction Industry.
We will continue to provide members with access to any construction projects out for tender within our region, construction labour relations advice, and construction industry specific advocacy.
For more information, please visit our website www.ssmca.com
*************************
Previous SooToday Coverage of this story:
Mayor asks for federal help for Essar Steel Algoma