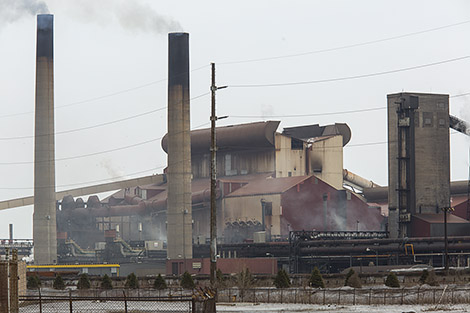 Essar Steel Algoma confirms the Ministry of Environment is investigating after employees discovered a leaky valve this morning on a tank containing diluted ammonia liquor byproduct.
Brenda Stenta, a spokesperson for the plant, said the valve has been replaced and efforts are underway to collect groundwater from within a bermed area where the holding tank in question is located.
Stenta said she could not confirm the amount of ammonia liquor spilled.
The chemical is contained in an open tank and can include rainwater and melted snow, she said.
The spill first came to light publicly after Michigan State Police in Lansing received a report from the Ontario Ministry of Environment of a liquid ammonia spill totalling 500,000 gallons at the Sault, Ontario plant.
The report came through a cross-border spill reporting system, and has not been updated since coming in this morning, said state police.
The report says the ammonia was spilling onto the ground and had the potential to affect the St. Mary's River.
Stenta said Ministry of Environment representatives were on site, but officials with the ministry could not immediately provide any information about the spill as of Monday afternoon.
Stenta said the leak was discovered this morning during a daily inspection.
The Sault Ste. Marie Fire Service says it was contacted about a spill at the plant, but was not asked to respond.
(PHOTO: Essar Steel Algoma, seen April 7, 2014, reportedly experienced a chemical spill. SooToday.com/Kenneth Armstrong)