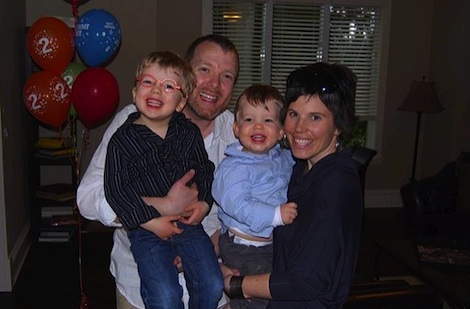 SooToday.com has received the following letter from loyal reader Sarah McLeod at Northern Credit Union.
*************************

By now, most of you have heard or read Erica's story.
If you have not, grab the Kleenex and scroll down.
It is now time to help our fellow Saultite by donating any amount you are able.
We have opened a Trust Account (100000077818) at Northern Credit Union and are also accepting donations via e-mail money transfer and our branch will deposit the money to the fund.

The success of our contribution needs each one of you.
Any amount helps.

We are trying to get the funds to Team Harris [shown] by mid-October to match the Vancouver fundraisers.

Please help us make this a success!
Erica Harris is one of those gals you just don't forget ...
Full of life, smart as a whip, gorgeous inside and out.
She's married to the perfect guy, Harley, and has two of the cutest boys, ages 5 and 2.
She is amazingly passionate about health and wellness and previously served as a bustling chiropractor.
She is a dedicated Mama, living life on the North Shore to its fullest.

That is, until this spring when a routine blood test raised immediate panic.
Within days, she learned she had AML - acute myelogenous leukemia - a very serious, aggressive form of blood cancer.

Within an instant, Erica's life had changed course, completely.

She was diagnosed on June 7 and was admitted to Vancouver General Hospital hours later.
As she left for the hospital, she explained to her older son that we all have these little fighter guys in our bodies that help keep us healthy by fighting bugs from colds but Mama's fighter guys just weren't working well right now.
As she walked out the door, her little guy shouted "go fighters go!" - and this became the mojo behind Team Harris.

Erica immediately started chemotherapy to kill all the "bad'"cells her bone marrow was producing.
Unfortunately, this first round of "chemo" didn't do its job.
Erica had to undergo an even more aggressive round of chemotherapy, called "salvage chemo."
Along the way, she endured many life threatening infections, had kidney failure, awoke unable to breathe as her lungs were swimming in fluid, had unexpected surgery, and required many blood transfusions.

She was told at the start of the salvage chemo that she would require a bone marrow transplant following remission as her leukemia was so aggressive.
At this time, Harley embarked on an amazing campaign to raise awareness for One Match in hopes of finding a stem cell/bone marrow donor match as Erica's only sibling was not a match.
Family and friends were desperately encouraging people to register with One Match as they knew that at some point Erica would need this transplant to survive.

Great news came on July 30 that a perfect bone marrow match (10/10!) had been found for her somewhere in the world.
This great enthusiasm, however, was short-lived.
The very next day, Erica and Harley learned the salvage chemo was not successful as Erica's marrow was still riddled with leukemic cells.
To be a candidate for transplant, she first had to be in remission.
She was offered no further treatment or testing aside from supportive care in the outpatient unit.
Her prognosis was estimated at a couple of months.

The Harris duo returned home to spend the next few weeks together with their boys as a family.
Never giving up hope, Erica and Harley vowed to stay strong and fight.
Erica was blessed with so many friends and family who spent tireless hours researching and contacting others on her behalf.
With this insight, they embarked on their path.
Erica started an intense regimen of supplements, high doses of IV vitamin C, she changed her diet, followed a juicing plan loaded with nutrients and found such comfort in the power of prayer, meditation and love.
Harley stayed by her side every step of the way since the minute she was diagnosed ... fighting for the best care, talking with specialists from all over the world, ensuring her nutrition/meds/supplements were perfectly adhered to, and holding her hand through all the ups and downs and for every pain staking poke.

Little did they know, deep down in that "never quit" bone marrow, there was a true miracle happening.
Erica's body started to respond to every little bit of love, hope and faith it had received.

On September 7, 2012, Erica, Harley and her brother Matthew sat with mouths agape in the day care unit at VGH as they learned Erica was in full remission.

Full remission.

Erica is absolutely humbled by everyones' efforts on her path and no words can describe how she feels with this amazing gift of life and hope she was blessed with from above.

All this means that Erica went from having a diagnosis of "months, at best, to live" to "be ready for a bone marrow transplant in October of this year".

Erica is ready for this.
Her husband, family and friends are ready for this.
As Erica prepares for yet another lengthy hospital stay, her whole 'circle of love' will be cheering her on, willing her body to its highest level of strength and supporting her entire family.
All is set for her transplant to start on October 19 at VGH.
************************