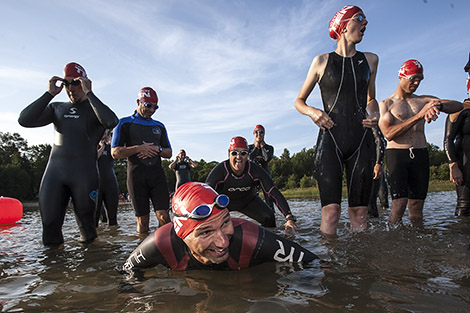 (Photo: Competitors prepare for the start of the swimming leg of their event during the St. Joseph Island Triathlon August 17, 2013. SooToday.com/Kenneth Armstrong)
Update: For reaction by the Township of St. Joseph click here, original release below.
*************************
NEWS RELEASE
ST. JOSEPH ISLAND
TRIATHLON
*************************
SAULT STE. MARIE - After 10 years as a staple for local and international athletes alike, the St. Joseph Island Triathlon has reached the end of the road. Race Director Sherri Smith has announced that there will be no Triathlon in Richard's Landing this summer.

The event began with approximately 200 participants in 2004 and grew to more than double that in 2013, straining the capacity of its host community of Richards Landing.
"For the past few years our core volunteer group has been struggling with the toll of pulling off the event with the amount of time and attention it requires, and the restrictions of our location," said Smith. "Each year we de-brief and each year new challenges come up due to the growth of the event."

The community of Richards Landing and the Township of St. Joseph have been partnering to host the St. Joseph Island Triathlon since its inception.
Ms. Smith expressed her appreciation of the residents for accommodating race participants over the years, volunteering and cheering them on.
However, as the event has grown, worries over race site layout, parking, pedestrian and traffic control have also grown.

"Putting on an event of this magnitude requires a lot of time throughout the year and creates a lot of stress, especially the weekend of the event," said Smith. "We have had some great volunteers who have taken this on year after year, but some of our key people are ready to retire. Unfortunately these people are irreplaceable, and their absence makes it impossible for us to consider continuing to host the Triathlon at its current location."

With the help of local agencies, Smith and her team have scanned various local lakes and rivers to find an alternative location, but have been unable to find a suitable alternative site.
She notes that while her team welcomes the input of our area communities, it is unlikely a new location will be found in time for 2014.

"We have looked exhaustively for a new location for the event but keep coming up against the same challenges," notes Smith. "We need a suitable water source, with good, paved roads leading to it, and parking for a couple hundred vehicles. There are not a lot of options."
*************************