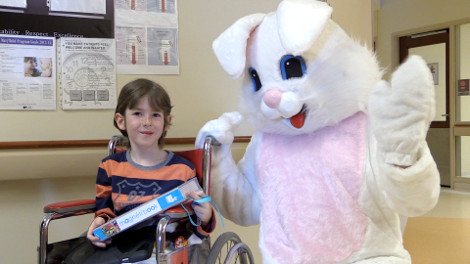 As everyone knows, Easter is coming this weekend, so Local2.ca's Jasmyn Rowley decided to head to Sault Area Hospital's maternal/child unit on Tuesday with a special visitor.
"We were thrilled with the response from viewers when we did our first series of Random Acts of Kindness visits with the '12 Days of Giveaways' in December," said Jasmyn. "We wanted to bring Random Acts of Kindness to the community again, and couldn't think of a better way to kick it off than to brighten the day of some very deserving kids at Sault Area Hospital."
"Any time a child is in the hospital it is incredibly difficult, but it can be even harder around the holidays," she said. "A special visit from the Easter Bunny was just what the doctor ordered for the children we were lucky enough to visit."
Watch Jasmyn and the Easter Bunny mingle with kids and hand out gifts in Local2.ca's latest installment of Random Acts of Kindness.