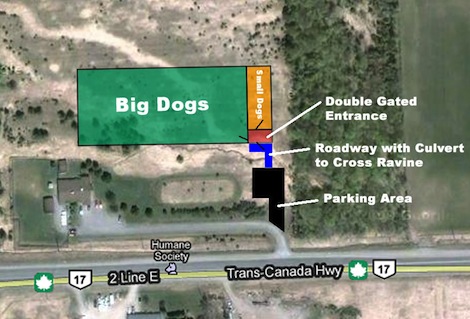 A legal, safe, and beautiful space for man's best friend to play and socialize is inching closer to actualization thanks to an additional $10,000 commitment from the City of Sault Ste. Marie.

At its December 3, 2012 meeting, City Council carried a resolution committing $45,000 to the construction of Sault Ste. Marie's first leash-free dog park to be located near Strathclair Park.

That left the Legal Off Leash Dog Owners Group of Sault Ste. Marie (LOLDOGS) to raise $25,000 to round out the funding for the $70,000 facility.

LOLDOGS had hoped to raise it's portion of the funding through raffle draws and Trillium grants, co-Chair Jake Cormier told SooToday.com.

However, because LOLDOGS is only responsible for raising money to deliver to the City and technically isn't building the dog park, the organization failed to qualify for a lottery license and didn't meet the criteria for government funding.

This is when the City of Sault Ste. Marie stepped in the boost its funding commitment to $55,000.

Cormier said LOLDOGS has raised $10,000 to date through a variety of fundraising initiatives, events, and public donations, and the remaining $5,000 has been committed from another local organization.

Sault Ste. Marie Manager of Recreation and Culture Joe Cain told us that the City's Parks and Recreation Department will be constructing the dog park this year, but the start date has been delayed due to the late arrival of spring.

LOLDOGS has a number of upcoming fundraising events planned, including Tropical Pet Picture Days at Rome's Independent Grocer on Friday and Saturday, May 9 and 10 from 10 a.m. to 4 p.m.

On Friday, June 13, the inaugural Dog Bowl event is scheduled to take place at Northcrest Lanes.

Tickets for this event - currently available at Northcrest Lanes, Pet Valu (both locations), Foremost Pets (both locations), Paw 'n Pet Food, Jen's Paw Spa, and Amore - are $20 each and include two and half hours of unlimited bowling, shoe rental, and one extra large pizza per lane.

For those wishing to immortalize their beloved canine, LOLDOGS has launched its Memorial Stepping Stone program.

For $65, a 12-inch paw print-shaped stepping stone will be engraved with your pet's name and placed around the perimeter of the dog park to create a memorial path.

For more information about these fundraisers and other LOLDOGS initiatives, please click here.
Previous SooToday.com coverage of this story