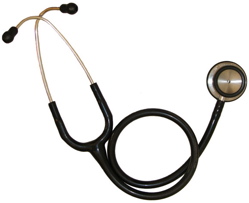 City Council received a good progress report from Sault Ste. Marie's Physician Recruitment and Retention Manager Christine Pagnucco Monday.
Council also gave its' OK to the recommendation that additional incentive payments to physicians to a maximum of $200,000 for the 2012 Physician Recruitment Program to March 31, 2013, with funding from the City's Hospital Reserve Fund, be approved.
Pagnucco reported to Council that in 2012, as a result of Physician Recruitment and Retention's efforts, two Emergency Medicine doctors were recruited and joined the staff at Sault Area Hospital (SAH), with a Family Medicine doctor signed up as well (and was expected to start practicing with the Superior Family Health Team January 1, 2013).
In addition, the report showed that specialists in Hematology/Internal Medicine and Pathology began practicing at SAH in 2012, and that two Obstetrics/Gynecology specialists began practice in the community, one of them at the Group Health Centre (GHC), the other in private practice.
Another family doctor has been signed and is anticipated to start practicing in July 2014.
Four psychiatrists are listed under "contract in progress" at SAH.
Ward One Councillor Steve Butland noted that Physician Recruitment and Retention has experienced improved results over what was considered "meager success" only a few years ago, and asked Pagnucco what she attributed the success to.
Pagnucco replied there are now an increased number of seats available in medical schools and a loosening of provincial government regulations in regard to allowing foreign-trained doctors to practice medicine in Ontario.
Asked by Council members whether the presence of a new Sault Area Hospital site has been a drawing card for doctors, Pagnucco replied "absolutely."
Overall, the progress report shows there are 14 doctors, four of them in Family Medicine, either currently now practicing is Sault Ste. Marie as a result of Physician Recruitment's efforts, or are on their way by January 2016.
Chief Administrative Officer Joe Fratesi added this is impressive, considering Sault Ste. Marie, unlike other Northern communities like Sudbury and Thunder Bay, does not have a Northern Ontario School of Medicine (NOSM) teaching facility.
The estimated balance in the City's Hospital Reserve Fund stood at $1,127,000 as December 31, 2012.
Funding for the Physician Recruitment Program will be $464,850 in both 2013 and 2014, with the additional $200,000 approved by Council bringing total estimated funding for 2013/2014 to $1,129,700. The Hospital Reserve Fund will be eliminated after 2014, meaning a new source of funding will have to be found for the 2015 Physician Recruitment Program.