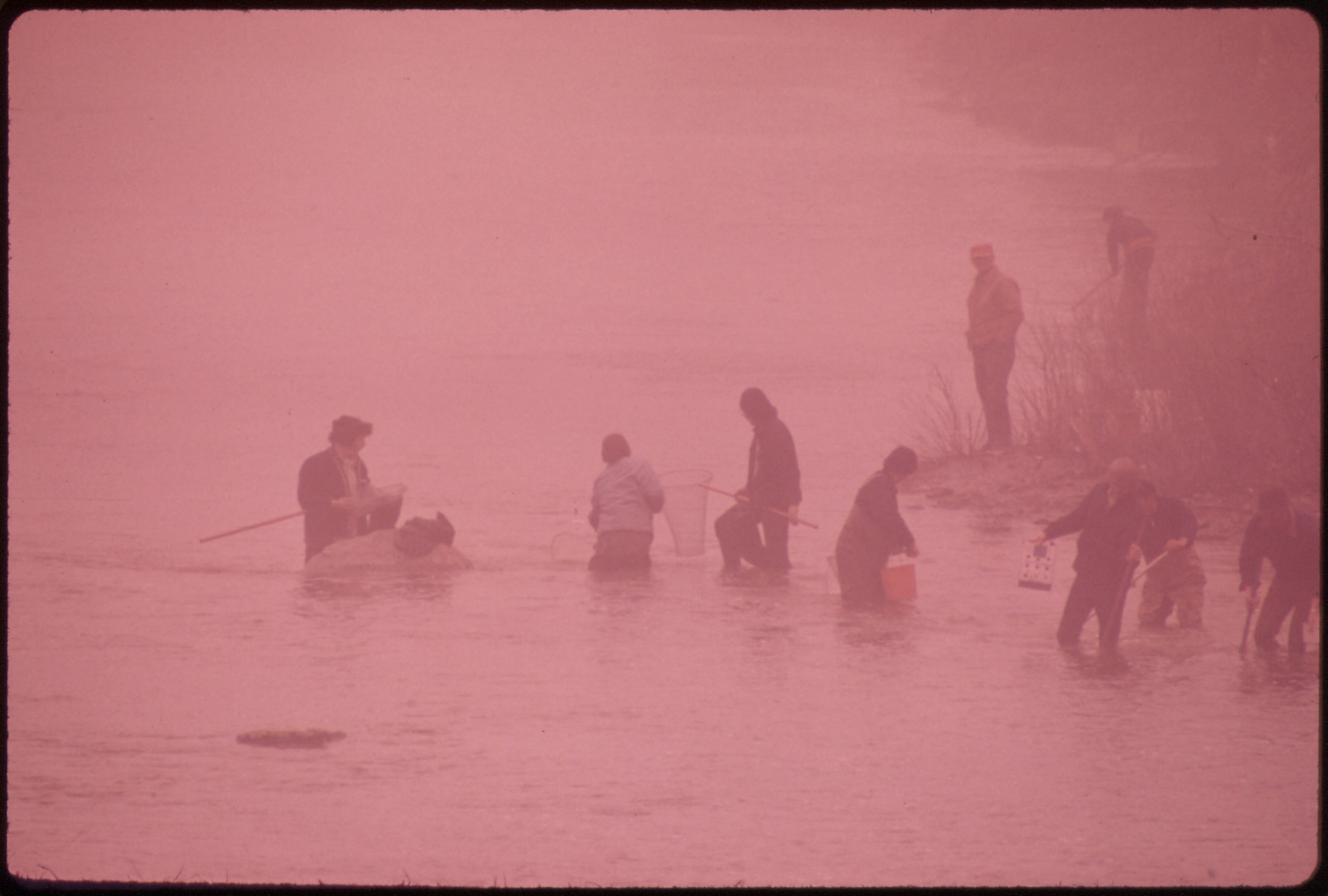 Depending on whether you have a Type A or Type B personality, smelt fishers might want to begin thinking about finding their nets in their garages or basements.
Although there is still 18 to 20 inches of ice at Haviland, Harmony and Batchewana bays north of the Sault, according to a local fishing expert, there are reliable reports that the smelts are running under the ice preparing for their annual spawning trip up area rivers and streams.
Orest Witiw, who runs the sporting section at the Trading Post, said that as a rule of thumb, the smelt run does not begin until the ice leaves the bays, but acknowledged too that the smelt run is triggered by water temperature.
Witiw said the Trading Post usually gets a head up when the annual run is underway because people come in to buy smelt nets.
Smelts begin to move into rivers and streams entering Lake Superior about a week to ten days after the run starts in St. Joseph's Island and along the North shore, he said.
"There is nothing happening east of the Sault. Lake Huron is still frozen over as well," Witiw said. "We're a little bit behind, but we have had years like this in the past."
Witiw, an avid fisher for over 40 years, recalled catching smelts in the Chippewa River in late May around the long weekend, and the start of the walleye season.
Presently, he said, ice fishers are enjoying an extended season on Haviland, and other bays north of the Sault, where they're catching limits of whitefish, perch and rainbow trout.
While this winter was harsh, he said those fisher who braved the cold and snow enjoyed a very productive season.
"Winter was brutal; the conditions weren't very good, but people with portable shacks were getting big perch and lots of whitefish."
Witiw said how much longer the ice remains in the bays would depend on the weather.
"If we get some warm weather and rain the ice can rot very quickly," he said.
As of April 22, the Sault O.P.P. detachment had not issued any ice condition warnings for area lakes, but nevertheless they are urging people to use caution before going on lakes because ice conditions can change suddenly.
Meanwhile, a spokesperson for the Ministry of Natural Resources said Wednesday that he had heard an unconfirmed report that the smelt run had begun on Manitoulin Island.
Bruce Tomlinson, MNR conservation officer in the Algoma region, said that water temperature is the best scientific predictor of when the smelt run begins.
"When the water temperature in rivers and streams hits nine or ten degrees celsius the smelt spawning cycle will occur," he said. "Ice on the lakes does not change that."
He added that the smelt spawning cycle ends when the water temperature climbs to 15 degrees celsius.
"If we had a major thunderstorm that would influence the start of the smelt run," he said.
Conversely, under those types of conditions, if the water temperature rose quickly it could shorten the smelt run, he pointed out.
Cathy Phillips, the owner of Harmony Beach Lakeview Resort, has her own way of predicting when the smelt run is about to begin.
"Everything depends on Mother Nature," she said. "I just go by the buds on the trees, and when I hear the frogs in the creek at night. I haven't heard them yet."
She is hoping, however, she'll hear them soon.
Her restaurant has been serving baskets of fresh smelts to customers for the past 23 years.
"I am getting about a 100 calls a day for the past week from people asking if we have smelts yet, and when are they going to be here," she quipped.
For many people, it's a lot easier to come to the restaurant for their annual smelt feed than to catch them and clean them.
"It's a lot less work," she said.
Although smelts are a popular spring delicacy for many area residents, Tomlinson noted that smelts, like alewife, another small fish, and salmon, were originally ocean saltwater species that were introduced to the freshwater lakes system.
He said that freshwater smelts originated in 1923 when they were planted in Crystal Lake, Michigan, and spread to Lake Michigan from there.
Despite their popularity as a food, their value is debatable, he said.
"They do interfere with the food chain and can be detrimental to a lake's bio-diversity," he said.
That is particularly true of alewife, and to a lesser extent smelts, who prey on lake trout fry after they are hatched in their spawning grounds.
Tomlinson said that one of the reasons salmon were introduced to the lake system was to help rehabilitate a dwindling lake trout population.
"We were losing lake trout because they were being eaten by these invasive species before they had a chance to mature, so we needed something to knock back the alewife population."
Writer's Comment: I suspect many among us have fond memories of smelt fishing and smelt dinners. Among my favourites as a boy is associated with eating our annual smelt feed. My dad always got stuck cleaning them, and my mom was cook. My job was to go in the backyard with a small knife to dig up tender young dandelion greens. My mother would mix the greens with some lettuce and an oil and vinegar dressing. Simple fare fit for royalty. I haven't eaten dandelion greens for decades, but I have noticed them from time to time in the produce section of some grocery stores.
Readers are invited to share their favourite smelting or smelt dining stories.