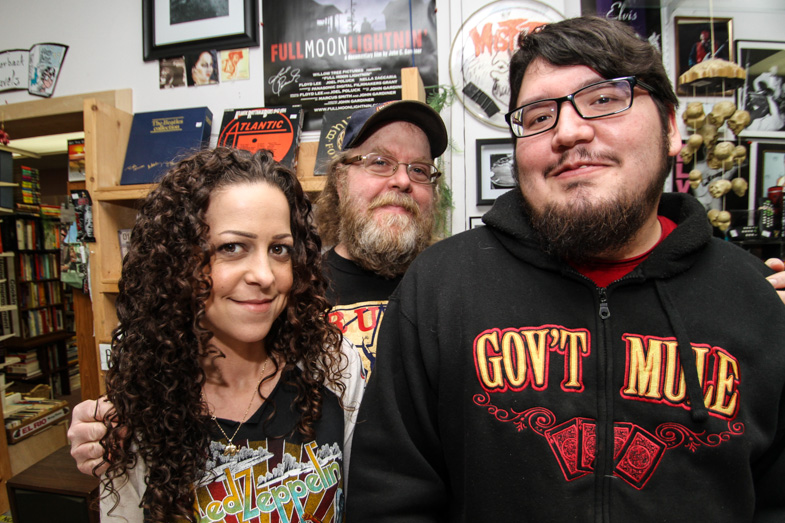 With more than 40,000 pieces of new and used vinyl in stock, The Rad Zone in the Wellington Square Mall was the place to be today.

Why today specifically?

Today was the 7th annual Record Store Day, an international celebration of vinyl culture, collecting and independent record stores.

Rad Zone manager Melodie Taylor told SooToday.com that approximately 20 people were already lined up at the door when the crew showed up this morning at 9 a.m. to set the store up for Record Store Day.

Local audiophiles were after the special selection of limited release, Record Store Day-specific vinyl pressings that Rad Zone owner Paul Muncaster (AKA Monk) had shipped in for the celebration.

He's been peddling vinyl in Sault Ste. Marie since 1984, first at Radical Records on Queen Street and now in its current incarnation and location, and told us that shoppers need to show up in the first 20-30 minutes to get their hands on the deep treasures and rare finds.

"To me, the draw to vinyl records is analogue sound. It's not digitalized, flat, high-pitched sound," Monk told us. "Also, it engages the listener more. You're reading the lyric sheet, you're cleaning the vinyl, you're setting up the turntable rather than just pressing the play button."

Taylor loves vinyl for a completely different reason.

"I like hearing people talk about vinyl," she said. "I get such a kick out of it because there's so many hardcore vinyl nerds around."

Although she doesn't have what some might consider a huge collection of vinyl at home - only 500 compared to Monk's 3,500 - she told us she was a collector even before she began working at the Rad Zone nine years ago.

And she has in her possession a few limited and numbered pressings she refuses to even open, including a rare Brian Jonestown Massacre LP.

"It kind of sucks because I really want to listen to it. But when it's number 632 out of 3,000, I'm not opening that puppy," Taylor said. "I have a few I won't open because I've become one of those crazy 'collector people'."

Indeed she has and was proud to let us know she made the very first Record Store Day purchase at the Rad Zone today - a special reissue of Fishbone's debut release.

Rad Zone employee and Garden of Bedlam bass player Evan Belleau graciously sacrificed what would have been his Record Store Day prized possession - Mastodon: Live at Brixton.

"That was previously an iTunes-only release. But I didn't buy it because a lovely older couple came in looking for it for their son, so I begrudgingly gave it over," he explained. "I told them to tell their son not to be ungrateful."

As one of the few DJs left in the area that still spins vinyl, it wasn't shocking to find Shane Erickson (AKA DJ Seith) at the Rad Zone with an armload of vinyl today.

He's successfully resisted the temptation of moving on to CD or digital content when he mixes.

"I like the idea of actually touching and manipulating the record in real time," he said. "There's no buffer between what you're doing and what's coming out of the speakers. You're really held accountable for everything that comes out. Plus, it's better sound and I think people really appreciate that."

He has about 2,000 records in his private collection, and one of his favourites and the one he sound-checks his shows with is Freddie Hubbard - Red Clay which was sampled by A Tribe Called Quest.

He began collecting as a fan of hip hop and dance music.

Once he began following the samples, he was lead down the path of jazz, funk and countless other genres.

"I think people are going back to vinyl because of the collect ability factor. Over the years people had lost touch with the music when CDs came out and it was all digitally mastered. It's nice to have the ability to put your needle on the record and hear the music as it was intended coming directly out of your speakers."

A few years back, Erickson created a tribute to Monk and the Rad Zone with a 45-minute long mix that sampled more than 150 tracks.

He's made it available for download on his Facebook page here.

For those that may have missed Record Store Day, there's vinyl aplenty at The Rad Zone just waiting for loving homes.

For more information about The Rad Zone, click here and keep an eye open for details about next year's Record Store Day celebration.
Pictured: Melodie Taylor (manager), Paul Muncaster (owner) and Evan Belleau of the Rad Zone celebrate Record Store Day - April 19, 2014.