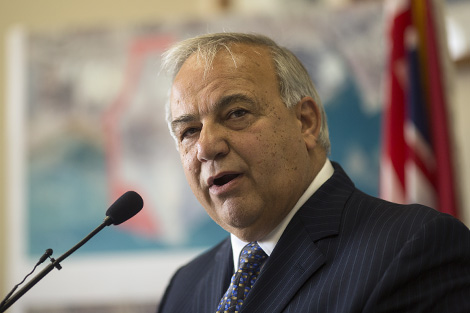 Provincial and federal government representatives have announced funding for the first phase of a long-awaited deep-water port expansion project that is expected to have a significant economic impact on the community.
Funding for the first phase of the project, which will include site planning, environmental work and aboriginal consultation, was announced to the tune of roughly $5 million.
The involvement of Essar Ports in the project was announced today.
Essar Steel Algoma, which is in the process of a massive refinancing, is expected to benefit from the port's creation, as is Tenaris Algoma Tubes and local businesses.
"The port of Algoma is a critical component of this way forward in our business strategy," said Kalyan Ghosh, Essar Steel Algoma CEO.
The provincial and federal governments are each expected to chip in just over $2 million, with Essar contributing $800,000 and the city expected to play a role as well.
A funding request is expected to go to council on Monday.
SooToday journalists were at the Civic Centre for this morning's announcement, so watch for full details to come.
LOCAL2 cameras were also on the scene, and a replay of the live stream is currently available.
Scroll through the live blog below to see details of the announcement as they were announced.
(PHOTO: City CAO Joe Fratesi speaks at a press conference September 26, 2014 announcing funding for planning and design of the proposed Port of Algoma. Kenneth Armstrong/SooToday)