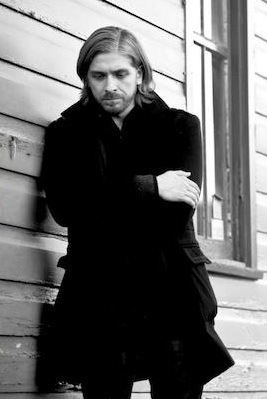 Adjusting to life without David Gold has been challenging for his family since a collision tragically took his life last December.

And his mother Esther finds the upcoming musical tribute to her son in Sault Ste. Marie somewhat bitter-sweet.

"It's a learning process and a lot of people don't know how to grieve," Esther told SooToday.com. "It's not easy at all. We'll grieve for eternity, but we have to continue to move one day at a time."

Sault born and raised, Gold fronted the doom metal band Woods of Ypres since its formation in 2002.

The band toured extensively, earning respect and devoted fans world-wide.

A teacher by trade with three university degrees, Gold also spend a great deal of time working abroad in Korea, Kuwait and China.

Just prior to his death, he had scheduled a Woods of Ypres tour through the United Kingdom to celebrate the release of a new album before he was to head off to Dubai for a new work program.

In the months since his passing, Esther and the Gold family have received condolences from friends and fans situated across the globe.

"People had dubbed him the 'Metal Life Coach'," said Esther. "My son was courageous to write lyrics and sing about life and challenges and love and love lost. He sang about disappointments and celebrated the joys. Many people won't admit to that."
"Interestingly, after David had passed away, in the first two or three days we received over 450 testimonials from people who were expressing their condolences," she continued. "Many also said that if it hadn't been for David, they feel that they would have given up on life. He was able to give them some optimism and courage."

Esther told us she took pleasure in watching her son progress as a songwriter and musician, from the early harsh darkness typically associated with metal, to the mature and introspective subject matter that comprised the band's last two albums, Woods 4 and Woods 5.

Her favourite Woods of Ypres song is You Are Here With Me (In This Sequence of Dreams).

"[His music is] fast and furious and powerful, mixed with a very tender part that I think is in all of our souls," she said. "He just seemed to have a very good intuition about people and he wasn't afraid to talk about what people think and feel and to share that."

A tribute to David Gold and his music will take place at the Canadian Night Club (410 Pim Street) on Saturday, April 7.

Presented by Dismembertainment, the Ypres Metal Fest will host local and visiting bands, including Kittie, November's Doom, Gypsy Chief Goliath, Hallows Die, Wolven Ancestry, Empyrean Plague, The Bear Hunters, Redundant, Sh*t Liver, Garden of Bedlam, and The Valentine's Day Massacre.

"I've followed David with his music ever since he was 16 years old and watched him go through all his struggles to get to the point that he had," Esther said of the show. "I've met an awful lot of the musicians taking part as well, and I'm so appreciative of all the rehearsing and preparation that's gone into this tribute to my son. David would be trilled and honoured. Our family is very proud."

Rich Moreland of Dismembertainment said plans for the Ypres Metal Fest began the night of Gold's funeral.

"Dave was dating Morgan Lander from Kittie, so she was onboard for the festival right away," Moreland said. "Dave was really supportive of our local scene, so everyone here was into the idea of a tribute. Our local scene has banded together to pay tribute to a very well respected musician."

A Sault music festival of this nature was a common topic of discussion for Gold and Moreland.

After Gold's untimely passing, Moreland felt the festival was something he had to do, and hopes to make it an annual event.

Tickets for Ypres Metal Fest are $20 each and may be purchased at Northland Music, the Knights Inn front desk and Bossy's Pub and Grub.

All the proceeds from the festival will be donated to the Gold family to cover the expenses of David's final arrangements and fund annual David Gold Music Scholarships which will be made available to Sault College and Algoma University students hopefully next school year.

Anyone wishing to contribute to these scholarships is encouraged to contact the Gold family via email at esther.h.gold@gmail.com

Ypres Metal Fest is an all-ages event.

Doors open at 5 p.m. with music beginning at 5:15 p.m.