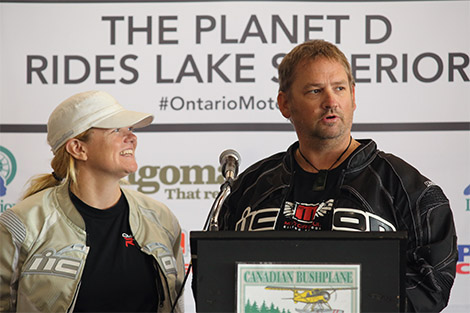 How do you go from being novice motorcyclists to making a one-week expert ride around Lake Superior?
The "Ride Lake Superior" campaign took a couple who had never ridden motorcycles before and followed them from novice to expert as they completed the circle tour around the lake.

Married adventure bloggers Dave Bouskill and Debra Corbeil, known more commonly as Dave and Deb from their blog theplanetd.com, were selected to complete the journey.

The hope is that prospective tourists can be inspired by the couple and set out on their own journey, said Carol Caputo, Executive Director of Algoma Country.

The couple are among the top 5 travel bloggers in the world, and the most-read travel bloggers in Canada, said Caputo.

Dave and Deb were filmed throughout the experience, from novice riders training for their license to taking the tour itself.

The videos will expand on the existing campaign, which won a Tourism Marketing Partnership Award from the Ontario Tourism Marketing Partnership Corporation.

The pair capped off their journey around Lake Superior Monday morning in the same place it started, Sault Ste. Marie, Ontario.

Corbeil said the tour was a great experience and she especially enjoyed the people she met at every stop, "everyone wanted to talk to you about your bikes, everyone wanted to talk to you about where you are from."

One of the biggest pleasures for Corbeil was the camaraderie between riders, including the custom of waving to each other as another rider approaches.

"I got the wave down. It didn't matter what kind of bike you were on, you're on a dirt bike, on a Harley, you're on a Honda, you're on anything," said Corbeil.
(PHOTO: Debra Corbeil and Dave Bouskill speak to media July 28, 2014 after their succesful motorcycle tour of Lake Superior. SooToday.com/Kenneth Armstrong)