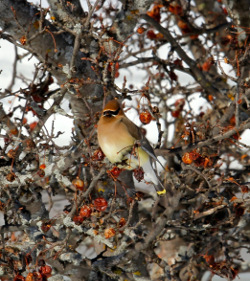 SooToday.com received the following photos of birds snacking on crab apples from our advertising account executive Tracy Stoneman.
*************************
I don't normally send pics in but I love these birds and thought at first they were Cedar Waxwings but they are not supposed to be in our area in the winter.
Thought they might be Bohemian Waxwings that are found in our area in the winter time, but the markings look more like Cedar Waxwings.
Whatever they may be I love them!
There were 11 in total coming to eat the crab apples the fall birds didn't get.
I included a summer picture of a cedar waxwing and a few from today.
*************************
Will you make your sales quota this year?
You use SooToday.com daily to keep up on the news.
You, and everyone you know.
Have you considered also using SooToday.com's huge and diverse readership to boost sales?
To learn more about business-building opportunities offered by SooToday.com, e-mail our sales professionals at advertising@sootoday.com
SooToday.com is locally owned and operated, and has nothing to do with the Sault Star or Sault This Week.
We're known for our fierce independence and incorrigible sense of humour.
Our large and diverse readership has one thing in common: an interest in the very latest news from two great cities that straddle the Canada-U.S. border, sharing the name of Sault Ste. Marie (or 'Soo' for short), and beyond.
Since our launch in February, 2002, we've set the standard for online news in Northern Ontario, delivering well over 50,000 news stories to our readers with lightning speed and a reputation for getting it right.
Isn't it time you made SooToday.com your home page?
*************************