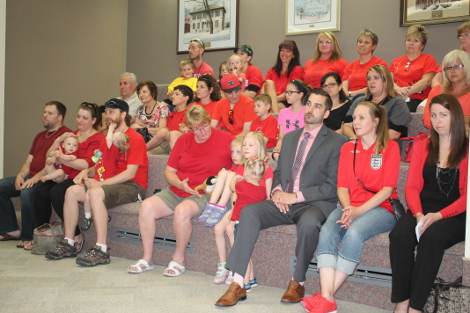 A group of Sault parents, deeply concerned over city staff's recommendation to council to wind down operations of three municipally-operated daycare facilities, gathered at city council chambers at the Civic Centre at Monday's council meeting.
City staff, in reports prepared for council, recommended closure of the three facilities (the Jessie Irving Centre, Maycourt Centre and the Holy Family-Best Start Program) in the face of significant provincial funding cuts to subsidized daycare services.
A group of parents who value the top-notch quality of childcare provided at those facilities, along with early childhood educators (ECEs) who care for the children, CUPE Local 67 representatives and concerned citizens addressed council and urged the city's elected leaders to find ways to keep the three daycare centres open.
In a recorded vote, council voted unanimously (12-0) in favour of a new resolution to form a committee to look into all options and report back to council with its findings, meaning the three daycare centres will remain open, at least for the time being.
The committee will include councillors Rick Niro and Marchy Bruni, heads of various city departments (social services, community services, finance and human resources), two daycare staff members, a CUPE representative and possibly others.
The committee will report back some time before next year's municipal budget.
"This committee needs time to look at all the angles in order to make an informed decision," Niro told council.
A March 3 report to council from Mike Nadeau, commissioner of social services, showed a change in the funding formula by the province (specifically, the Ministry of Education) means a reduction of nearly $1 million in direct annual child care funding to Sault Ste. Marie and all its child care providers.
That means the city's own daycare program would take a 27.5 percent cut in its funding from the Sault Ste. Marie District Social Services Administration Board (DSSAB) throughout 2014 and 2015.
City taxpayers currently subsidize daycare services by paying the DSSAB $1.2 million as the city's share for all daycare spaces the DSSAB funds, and also pay for the three city-run municipal daycare centres.
Those municipally-operated daycare centres provide 100 spaces (51 subsidized, 49 "full-fee").
Financially, if the city withdraws from municipally-run daycare and transfers those 100 spaces to other daycare providers as originally recommended, there would be a saving of $650,000 to the city annually.
However, that would mean the loss of 32 city jobs.
It is also felt the level of care provided by city-run operations is better than that given by other operators, even though those other operators do meet provincial standards.
If the city stays involved in childcare through an increase in fees, a city staff report from the finance department states it would mean parents paying full-fee will pay $81 per day (double to what they are paying now) in 2015 in order for the city to avoid a tax levy.
There would still be a remaining levy of $155,835 to fund the revenue shortfall for the 51 subsidized spaces.
John Sloan, president of CUPE local 67, told council Monday that with only 100 city-run daycare spaces available and 1,000 children on a waiting list for daycare, there should be efforts to expand daycare spaces instead of closing them and transferring them to other daycare providers.
"We're willing to work with the city to keep our daycare centres open," said Maria Pino, an early childhood educator and CUPE local 67 vice-president.
Abigail Andersen, another unionized daycare employee, said city daycare workers have been "overlooked and under recognized," calling the city's recommendation to pull out of daycare unfair.
Concerned parent Rachel Punch said closing the three daycare centres would make the Sault a less attractive place for young families to live and work.
Punch said city daycare workers go "above and beyond" in providing good nutrition and quality playtime for children.
Punch said she felt city staff, in their original recommendations, were "taking the easy way out," and encouraged staff to find solutions to preserve good quality childcare and preserve 32 good-paying jobs at the three centres.
"If you close these centres, these spaces will be gone forever," Punch said.
Concerned citizen Marilyn Robb called for a committee to come up with a restructuring plan for city-run daycare.
Parent Wendy Crysler said city-run daycares have helped tremendously in developing language skills in her children, while providing wholesome food and playtime for them.
Concerned citizen Jason Pino told council he felt "the quality of care (at the city-run daycares) is second to none and wouldn't be matched by other centres."
Council members seemed to hear the message clearly.
Susan Myers, ward two councillor, said "we need a made in Sault Ste. Marie solution."
Lou Turco, ward four councillor, said formation of a committee to look into the issue shows "council does listen…people have power."
Steve Butland, ward one councillor, said formation of a committee to come up with solutions would be "a wise decision…there are too many unanswered questions," adding childcare faces a crisis situation across Ontario and the rest of Canada.
Mayor Debbie Amaroso told council she has been informed by Sault MPP David Orazietti there is transition money available to deal with local daycare while the committee does its work.