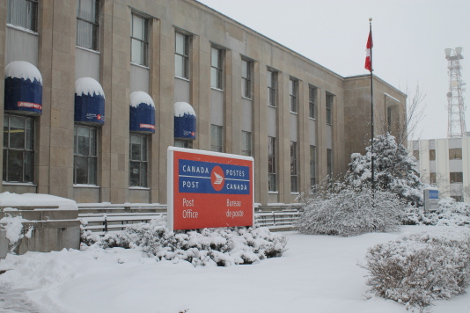 At its regular meeting Monday, City Council chose to postpone discussion of changes in services announced by Canada Post in December (and their effect on Sault Ste. Marie) to Council's February 3 meeting.
The discussion planned for Monday was intended to gather input from speakers on both sides of the Canada Post issue, but it was noted by Ward Three City Councillor Brian Watkins not all parties were present and that more time was needed to bring them all together for another meeting two weeks from now.
However, some local Canada Post employees were present at Council chambers Monday, and Council allowed Canadian Union of Postal Workers (CUPW) Central Region Grievance Officer Peter Denley (a Sault native who now works in Ottawa, who travelled from the capital to attend Council's Monday meeting) to make a speech protesting Canada Post's plans.
A resolution put forward by City Councillors Terry Sheehan and Joe Krmpotich and passed at Council's January 6 meeting urged Canada Post to reverse its decision to slash thousands of jobs nationwide, its plan to eliminate urban home mail delivery and replace that long-cherished service with community mailboxes across the board, and its plan to jack up the price of postage stamps.
The two Councillors have stated their concern over impending local job losses at Canada Post, the impact of community mailboxes on seniors and those with disabilities, and the impact of increased postal rates on cash-strapped individuals and families, small businesses and not-for-profit organizations.
Denley ripped into Canada Post and a Conference Board of Canada report released in April 2013 which outlined financial challenges facing the corporation.
He also criticized the governing Conservatives for allowing Canada Post to make its announcement shortly before Parliament adjourned for the holiday season.
The moves announced by Canada Post in December, Denley told Council, were "unnecessary."
Denley said the corporation's December decision was made without sufficient public input (contrary to Canada Post's claim that it conducted "extensive" public consultations).
The corporation held consultations in 46 communities.
Canada Post states drastic changes are necessary in the face of financial losses, due to a huge increase in online communication and an accompanying decline in the amount of regular mail Canada Post delivers.
Canada Post's losses were reported to be $109 million for the third quarter of 2013.
Canada Post says if the changes are not implemented, it could lose $1 billion by 2020.
The corporation expects to save $500 million through nationwide establishment of community mailboxes over the next five years, and $700 million to $900 million per year as a result of all of its changes, such as a whopping cut of 6,000 to 8,000 jobs and an increase in stamp prices, with a view to achieving financial stability by 2019.
Denley plainly disputed the corporation's claims of financial losses, stating Canada Post's operations have, in fact, been profitable.
Denley claimed: "They are blaming it all on losses due to a lockout in 2011…(because of that) they claim the sky is falling."
Denley acknowledged there has indeed been a decline in the volume of regular mail Canada Post handles, "but not as great as they say."
The CUPW representative questioned why the corporation has "jumped the gun" in its decision, and chose not to wait for a review of Canada Post services that is scheduled to be held this year.
Denley dumped on the Conference Board of Canada's report as being short sighted, in that it paid very little attention to the possibility of Canada Post introducing new revenue-generating financial services for its customers, which is something postal services in countries like Switzerland and Italy have done successfully.
He also encouraged the beefing up of Canada Post's parcel delivery service.
"There's a way out of this, other than a poor choice in cuts."
Denley also said CUPW has heard complaints from many seniors, upset with the challenges community mailboxes will pose for them, as well as anger over a comment from Canada Post President and CEO Deepak Chopra suggesting many seniors would consider a walk to a community mailbox as good exercise.
Denley said there remains a clear need in Sault Ste. Marie for traditional home mail delivery, stating there are over 24,000 "points of delivery" in the community.
Over 7,000 Sault residents (such as those who live in apartments) receive centralized mail service.
2.2 percent of Canada Post's Sault Ste. Marie customers currently collect their mail from community mailboxes (CMBs), Denley said.
Under Canada Post's plan, Denley said, there would be close to 2,000 CMBs erected in Sault Ste. Marie.
Denley said a debate will arise in the community as to where they should be located.
The CUPW representative said that will result in a great deal of NIMFY (Not In My Front Yard) discussion among residents.
"There's nothing wrong with creating new jobs in sectors like renewable energy, but let's keep the good paying postal jobs we have," Denley told Council.
Locally, Canada Post has about 80 letter carriers and about 25 operations employees.