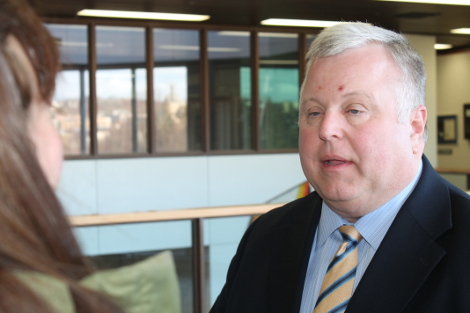 City council has given its approval to terms of a funding announcement, made March 31 by the federal government, whereby passenger rail service will keep running between Sault Ste. Marie and Hearst for at least another three years.
Under terms of the funding announcement, Transport Canada will provide $5.3 million to the City of Sault Ste. Marie over three years, in increments, to assist with continued passenger rail service between the Sault and Hearst.
The city, in turn, will hand that money to Railmark Canada, owned and operated by U.S.-based rail operator B. Allen Brown, to help make the Sault to Hearst run an eventually self-sustaining, viable tourist operation over the next three years.
The Sault Ste. Marie Economic Development Corporation (EDC) will also be working closely with Railmark over the next three years.
Railmark will take over the Sault to Hearst run in May.
Brown told SooToday he would have preferred the federal government to grant an original request for $7 million over five years.
Regardless, Brown said Railmark will work hard to promote destinations along the Sault to Hearst line to both Canadian and U.S. tourists, and add features such as a dining car to enhance the ride from the Sault to Hearst.
Both Mayor Christian Provenzano and CAO Joe Fratesi told EDC CEO Tom Dodds, who was present at Monday's council meeting with Brown, that the City of Sault Ste. Marie does not wish to remain in the rail business and is counting on Brown to turn the Sault to Hearst line into a viable business, to which Dodds agreed.
An agreement between the federal government and the ACR Passenger Service Working Group to save the Sault to Hearst passenger rail service was announced March 31.
The federal government announced in January 2014 it would stop an annual subsidy of $2.2 million to CN to run the ACR Sault to Hearst passenger rail service.
Lobbying persuaded the federal government to continue that funding for another year, until March 31, 2015.
An ACR Passenger Service Working Group was formed to come up with a solution to save the passenger rail service, which connects people to cottages, businesses and tourist operations accessible only by rail.
The Working Group, chaired by city CAO Joe Fratesi, included the City of Sault Ste. Marie, the Sault Ste. Marie EDC, Municipality of Wawa, Town of Hearst, First Nations communities, Township of Dubreuilville, Tourism Sault Ste. Marie, Algoma Kinniwabi Travel Association, Coalition for Algoma Passenger Trains (CAPT), as well as home, cottage and land owners serviced by the ACR line.
An economic impact study showed the ACR passenger rail service generates between $142 million and $268 million in annual economic benefits for the region, and a BDO study showed the service provides between $8.7 million and $12.83 million annually in tax revenue to all levels of government, along with 30 to 40 direct jobs, 55 to 170 indirect jobs and 290 to 430 "induced" jobs.
The $5.3 million in federal funding is drawn from the government's Remote Passenger Rail Program.
The government has stated a review will be carried out after three years to see if extra funding is needed.
(PHOTO: B. Allen Brown, Railmark president, speaks outside council chambers, Monday April 13, 2015. Darren Taylor/SooToday)