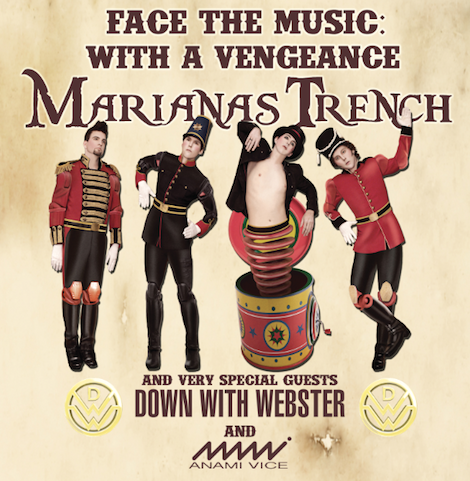 NEWS RELEASE
ESSAR CENTRE
*************************
Marinas Trench
Face The Music: With A Vengeance
(January 22, 2013) – After their breakthrough album Masterpiece Theatre in 2009, Vancouver pop rockers Marianas Trench are back with their newest album Ever After.
Vocalist-guitarist Josh Ramsay, guitarist Matt Webb, bassist Mike Ayley, and drummer Ian Casselman first single from Ever After "Haven't Had Enough", which tells the story of Ramsay trapped in an alternate world ruled by a wicked princess at the head of an army of toy-like minions.
Two hundred of the band's dedicated fans showed up on set to assist in making it magically evil.
Other hits from Ever After that have hit the radio airwaves consist of "Desperate Measures," "Fallout," and "Stutter."
Marianas Trench have built their name on relentless touring and engagement with their fans through social media, while chart-busting singles such as "Celebrity Status,""Good To You," "Cross My Heart," and "All To Myself" have ruled airwaves and online plays.
Industry accolades in the form of awards and nominations have been sweet, but nothing can trump the first love of performing in front of a live audience.
Marianas Trench brings with them on their "Face The Music: With A Vengeance Tour" very special guests Down With Webster and Anami Vice.
For more information, go here, here or here.
Tickets go on sale for the public on Friday, January 25, 2013.
Essar Centre, Saturday, April 6, 2013 at 7 p.m.
In person at Essar Centre box office
By phone at 866-775-9422
*************************