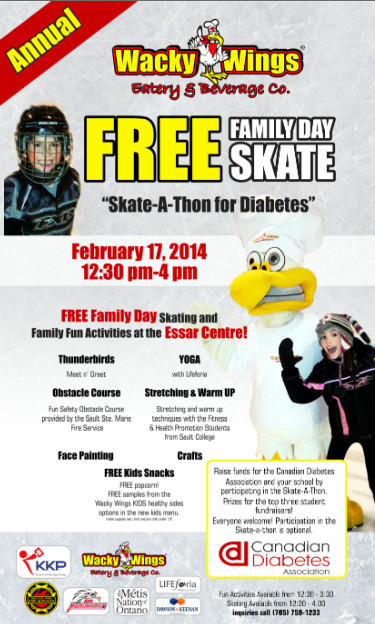 SooToday.com has received the following invitation to the public to join in a free public skate at the Essar Centre organized by the Sault Ste. Marie and District Branch of the Canadian Diabetes Association and sponsored by Wacky Wings on Family Day this Monday.
Branch Coordinator Janie Bringleson says, "basically it is a free skate with a bunch of other family activities."
"It is all free and open to the public," she says. "We do have a skate-a-thon component that is optional, but we really just want people to come out and enjoy some free physical activity with their family."
Oh, and one other thing.
Bringleson also says we should walk our dogs every day, even if we don't have one.
*************************
Wacky Wings Eatery and Beverage Company presents the annual Free Family Day Skate and Skate-A-Thon for Diabetes.
On February 17, from 12:30 to 4 p.m. The Sault Ste. Marie and District Branch of the Canadian Diabetes Association will host a free Family Day skate and fun family activities at the Essar Centre.
In addition to skating, fun free family activities planned for Monday include
Meeting the Soo Thunderbirds
Yoga with Lifeoria
A fun safety obstacle course set up by Sault Ste. Marie firefighters,
Stretching and warm up exercises with the Fitness and Health Promotion students from Sault College
Face painting
Crafts
Free snacks for the kids
Help raise funds for the Canadian Diabetes Association and your school by participating in the Skate-a-thon for Diabetes by contacting Janie Bringleson at (705) 759-1233 or by dropping by the office at 134 Northern Avenue East to pick up a pledge form.
Prizes will be given to the top three student fundraisers.
*************************