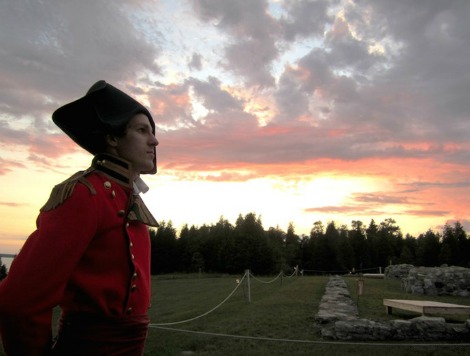 NEWS RELEASE
ALGOMA 1812
*************************
Algoma 1812 is thrilled to announce the closing event commemorating the Bicentennial of the War of 1812 on Saturday, August 23, 2014 with The Taking!, the story of the USS Tigress and USS Scorpion that were captured by the British in the waters of Lake Huron in the summer of 1814.
At 1:15 p.m. a historical talk will provide context for the events to follow.
The Hill at Fort St. Joseph will be transformed with historical encampments, re-enactors, the Ghent Tent & cultural pageantry.
At 3 p.m. bagpipers will lead Dignitaries up to the Hill where Theatre in Motion will perform "The Taking"- theatre experience.
A wreath laying ceremony and speeches to formally close the Bicentennial will follow.
Admission fees apply.

The Royal Canadian Legion Branch 374 in Richards Landing will host an 1812 Dinner.
Visit with the paddlers of authentic Voyageur canoes as they share their experiences.
Dinner menu is roast beef, baked potato, baked beans and a maple syrup dessert.
Dinner tickets $12/adult, $10/seniors and children.
Advance ticket sales only.

Parks Canada Fort St. Joseph's popular annual Ghost Walk is taking place August 22 and 23.
Reservations only, call 705-246-2664.

Algoma 1812 is offering a Journey back in Time tour including transportation, events and dinner.
For more information contact Algoma 1812 (705) 971-8204 or algoma1812@gmail.com
For packages including accommodation www.saulttourism.com/packages/

Backgrounder

2012 marked the 200th anniversary of the War of 1812.
The Government and agencies in Ontario, Canada and the United States commemorated and celebrated the three year bicentennial.

Algoma 1812 was created to plan and conduct annual signature events and encourage other activities to increase awareness about the War of 1812.

Algoma 1812 has a diverse mix of organizations represented on its executive committee, whose role is to ensure board connectivity among community partners and to align Algoma 1812 activities with the Federal and Provincial priorities wherever possible.
*************************