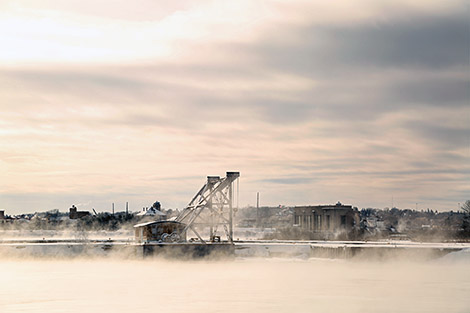 Remember how cold it was on Thursday and Friday?
Just in case you forgot we thought we'd remind you with a lovely photo gallery, courtesy of SooToday.com's own Kenneth Armstrong.
Feel free to enjoy it from the warmth and comfort of your own home.
The Sault and much of the surrounding area are still under snowfall warnings and watches with another 15 cm expected in some areas.
Not to worry if you are already tired of the snow, though.
Environment Canada says it's supposed to get cold enough to freeze the nards off a Wookiee again when the snow stops.
Okay, maybe that's not exactly how Environment Canada put it but their description left us a bit cold so we thought we'd warm it up with a little colour.
For your winter pleasure we bring you the full list of current Environment Canada alerts for our viewing area and that lovely photo gallery below.
View Photo Gallery for this Story
*************************
Snowfall warning continued for:
Agawa - Lake Superior Park
Searchmont - Montreal River Harbour - Batchawana Bay
Sault Ste. Marie - St. Joseph Island
Alberta clipper delivering up to 30 cm of snow.

An Alberta clipper crossing Northeastern Ontario today will reach Moosonee by this evening. This well developed weather system has a fairly large area of snow associated with it that extends from Quebec west to Minnesota.

A general 15 cm of snow fell across most regions already. Higher snowfall amounts of 20 to 25 cm over locales along the north and eastern shore of Lake Superior have already been reported. An additional 10 to 15 cm is possible today over the eastern shorelines of Lake Superior before the clipper moves out of the area.

Hazardous winter driving conditions are expected due to accumulating snow on untreated highways. In addition very low visibility in areas of heavier snow and blowing snow in exposed areas are expected. Motorists should adjust travel plans accordingly and allow extra time to reach their destinations.

The snow will end over Northeastern Ontario this evening. In the wake of the disturbance tonight, very cold Arctic air is expected to return and wind chill warnings may eventually be required for parts of Northwestern Ontario.
Refer to your local public forecast for further details.
Snowfall warning ended for:
Wawa - Pukaskwa Park
Elliot Lake - Ranger Lake
Blind River - Thessalon
Manitoulin Island
*************************
Special weather statement continued for:
Manitouwadge - Hornepayne
Timmins - Cochrane - Iroquois Falls
Significant snowfall from an Alberta clipper.
An Alberta clipper will cross Northeastern Ontario today to reach Moosonee by this evening.
This well developed weather system has a fairly large area of snow associated with it that extends from Quebec westward to Minnesota.
A general 10 to 15 cm snowfall is expected for most regions.

Poor driving conditions are expected due to accumulating snow on untreated roads and low visibility in areas of heavier snow and local blowing snow. Motorists should allow extra time to reach their destinations.

Please monitor the latest forecasts and warnings from Environment Canada at www.weatheroffice.gc.ca
Special weather statement ended for:
Greater Sudbury and vicinity
Chapleau - Missinaibi Lake
Gogama - Foleyet
Kirkland Lake - Englehart
New Liskeard - Temagami
Espanola - Killarney
*************************