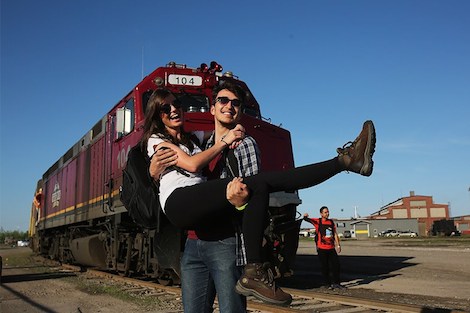 CN says it is not in a position to maintain passenger service to Hearst, but will help the Algoma Central Railway Working Group in its search for another operator.
The Sault-to-Hearst passenger line ceases today, CN confirmed in an e-mail to SooToday.
"CN, which discontinued its operation of the passenger train on May 1, 2015, is not in a position to maintain service beyond July 15," said CN spokesperson Mark Hallman in an e-mail response to questions from SooToday. "CN also is unaware of any other suitable operator that could step in on short notice and meet the city's requirement with the level of proposed short-term subsidy offered by the federal government."
The EDC and Mayor Christian Provenzano had called on CN to resume interim passenger rail service to Hearst after the company cancelled a third-party operator agreement with B. Allen Brown's Wixom, Michigan-based Railmark Holdings, Inc last week.
"Both the mayor and ourselves (EDC) penned letters to CN," said Sault Ste. Marie Economic Development Corporation (EDC) CEO Tom Dodds this morning.
"We haven't heard anything back yet. My instinct is they are working on it," said Dodds in an interview this morning.
Dodds said CN had been asked to provide interim service to at least the end of the summer to conclude the tourist season.
"They (CN) have made it very clear they are not in the passenger business. They don't want to be an operator, they want to find a solution to this," he said.
With the future of the line in doubt, Brown says he regrets taking control of the Algoma Central Railway passenger service before paperwork was finalized.
"I should not have run the train on May 7, until the agreement was signed. But I did in good faith," Brown said via text message Tuesday.
After months of delays, the EDC recommended late last month that the city not sign an agreement with Railmark to allow reimbursement for costs incurred through federal subsidy money the city was put in charge of.
Dodds said today he has no regrets in stipulating Railmark had adequate financing for at least three months of operation.
"We didn't think three months of operating costs for a corporation in charge of a railway to be an unreasonable amount of money and I'm glad we did it," said Dodds.
Dodds expects whoever may take over as third-party operator will have to meet those same conditions.
Sault Ste. Marie MP Bryan Hayes says he is disappointed for the stakeholders who are losing revenue along the line.
"CN thought they had the financing, which is why they had an agreement for Railmark to take over the Agawa Canyon Tour Train as well," said Hayes.
"As it turns out, the financing isn't there. Without financing, Railmark simply is not capable of running the operation. They owe CN money. CN has said they have had enough, they don't have the financing, they don't have the ability to pay us," continued Hayes.
Shortly after the city's vote of non-confidence in Railmark, CN announced it was severing the deal with the company and shutting down the passenger service effective today.
Because no trains are scheduled Wednesdays, what may have been the final ACR voyage from Hearst to Sault Ste. Marie occurred yesterday.
Brown feels he is still in the game, even as it seems most have written off Railmark.
"I am committed to making it work and we have impressive marketing plans to launch once this (is) out behind us. We are at risk for the money and liability taken on so far," said Brown.
Dodds acknowledges Railmark incurred costs by running the service, but said the city has no obligation to reimburse Brown with no agreement in place.
"We never had a letter of intent with him, we have never had a legal agreement with Allen Brown as it relates to this arrangement," said Dodds.
Hayes said he expects Railmark may be eligible for some kind of reimbursement through the government subsidy, but is unsure how that would work with no agreement in place.
Coalition for Algoma Passenger Trains (CAPT) co-chair Al Errington said Tuesday that Railmark was never wanted by the ACR Passenger Service Stakeholders Working Group.
He said CN chose Railmark despite the working group's reservations.
"Railmark was not our choice. We had other recommendations," said Errington.
Hayes said CN's decision to cut Railmark loose is supported by the city and stakeholders.
"There isn't one person who has called me and said, 'Bryan, we have to continue with Railmark,'" he said.
"I'm here to reassure them the funding is still available. We want a viable third-party operator and we look forward to the stakeholder group coming up with another alternative and CN has stated they are amenable to another third-party operator other than Railmark," said Hayes.
Errington said he hopes with federal funding in place the quality of third-party operators applying to run the service will allow for a better choice.
"We're waiting for CN to make a decision. We hope it's a smart decision," said Errington.
Carol Hughes, MP for Algoma—Manitoulin—Kapuskasing, said the federal government's move to declassify the ACR as a remote rail service and the cancellation of the annual $2.2-million subsidy, allowed CN the opportunity to bow out of passenger service all together.
"This was their way out, and the government gave them that way out. It's unfortunate they didn't do their homework first, how this would effect the economy," said Hughes.
Hughes said problems were compounded by the selection of Railmark.
"Obviously he (Brown) didn't have all his ducks in order to begin with, certainly the government has to take ownership for everything that has occurred," she said.
Hayes concedes the problems began with the cancellation of the subsidy.
"The challenge occurred upfront when the funding was actually cut by the federal government. When I stepped in and discussed with minister Raitt and her staff, the significance of that funding cut and the implications — I don't think that they clearly understood the impact," he said.
Previous SooToday coverage of this story:
Mayor to urge CN to run passenger train
Sault-Hearst rail service to cease July 15 (update)
(FILE PHOTO)