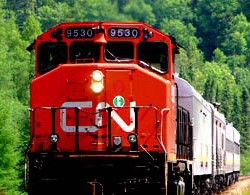 Both the Federal Conservative government and the CN Railway Company have kept a mid-November 2013 decision by Transport Canada to cancel its annual subsidy of about $2.2 million toward the operation of passenger rail service between Sault Ste. Marie and Hearst a secret for over two months.
CN officials announced Friday Jan. 24 to municipal leaders and CN employees in both the Sault and Hearst that they would end the three times a week north and southbound passenger service along the 476 kilometre wilderness route at the end of March 2014.
Sault MP, Bryan Hayes, said Tuesday (Jan. 28) from Ottawa that CN was told in early November that the Conservative government was canceling it financial support for the passenger rail service effective March 14.
That information was backed by a draft brief prepared by the Sault Ste. Marie Economic Development Corporation.
The brief says that emails were sent by SSMEDC's chief executive officer, Tom Dodds, to "key Transport Canada officials" on Jan. 26 where background information provided in a CN statement was confirmed.
Transport Canada's response to the EDC inquiry included a Nov. 18, 2013 date when CN officials first were told of the funding cancelation.
Transport Canada said the decision to cancel the subsidy was based on a 2010 review of its funding program to remote passenger rail services that redefined its definition of a remote community.
Under the policy change that did not evaluate potential economic impacts, according to the EDC brief, the ACR was disqualified from federal assistance because the towns along the rail route have year-round road access.
Regarding the Transport Canada policy shift formally approved in 2013, Hayes said,"It was up to CN to determine the implications of the loss of the subsidy. I don't know if this ties in with the cancelation of the snow train. That is a question you have to put to CN officials."
He added, "I just know that CN was informed in early November, and we (the government) didn't really know what CN's response would be until they went public to the mayors of Hearst and the Sault on Friday."
Hayes, who said he has not consulted with CN officials since November, criticized the company's recent decision to end the passenger service March 31.
"They have decided as a business decision that they are going to eliminate the service because it doesn't make economic sense for them to continue it," he said. "It's unfortunate, because they are a multibillion dollar corporation, and CN's management have decided 
ACR isn't important enough to them, because without a government subsidy they would operate at a loss."
CN officials, however, have decided to remain tight lipped. Apart from confirming that it will discontinue passenger rail service April 1, CN spokespersons are declining to answer any questions regarding their decision.
One of the unanswered questions is why CN has taken over two months to make public their decision to cancel the rail service, if they were notified Nov. 18 as reported by Hayes and the EDC.
The EDC brief also raises a number of key points for consideration following the CN announcement Jan. 24.
One, the brief asserts that other than communicating its decision with CN, the Federal government does not appear to have consulted "with any stakeholders in the region, particularly those who rely on the ACR passenger services for their livelihood".
Similarly, the EDC point out that although CN was made aware of the Transport Canada decision Nov. 18, the company had not shared that information with regional stakeholders until just recently.
"Stakeholders have not been fully informed of all the facts by the government or CN." The EDC brief also stressed that the significant economic impact and related implications of the cancellation of the rail service were ignored by both the government and CN.
Hayes said, however, he is aware of the potential economic harm to tourism in Algoma and Northern Ontario if the Sault to Hearst passenger service ends March 31.
"My hope is to ask the government to reverse their decision, even on a temporary basis, to look for solutions to keep this operation going," Hayes said. "I think we need to look at alternative funding mechanisms, and we need to hear from the stakeholders. The challenge is the funding is gone March 14, so it doesn't allow a lot of time."
While Hayes defended his government's action as an attempt to save tax dollars, he said it seemed obvious to him that CN was not interested in maintaining the passenger service at a loss despite huge profits derived from its core freight operations.
Hayes said government officials were "well aware" of his concerns.
He said his next step would be to talk to stakeholders, gather data, and then try to convince the government that to allow the rail service to die, would not "bode well" for the region. "We need to look at some alternative solutions or partnerships," he said. "This is not a fait accompli yet."