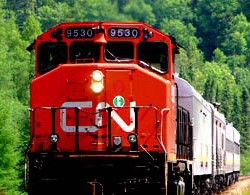 City Council, at its regular meeting Tuesday, approved spending up to $50,000 for a working committee dedicated to establishing a long-term plan to keep CN Rail passenger service running between Sault Ste. Marie and Hearst.
The money will come from the City's Economic Development Fund (EDF).
The money will be used to hire a part-time coordinator for the working committee, for economic impact studies to be done, and pay for travel and meeting expenses.
It is not yet known how much smaller communities will contribute toward the committee's work.
With little notice, CN Rail dropped a bombshell January 24 by announcing that due to a cut of $2.2 million in annual federal government funding, it would be ending passenger rail service from the Sault to Hearst as of March 31.
Since then, CN has announced it is extending rail service until April 29.
The route is a vital link to private cottages and crucial to the commercial success of hunting and fishing lodges between the Sault and Hearst, most of which can only be accessed by rail.
An earlier resolution, passed unanimously by Council February 3, called for Council to convince the federal government (Transport Canada) to continue financial support of CN's operation of the Sault to Hearst passenger rail route for a further period of one year.
That one-year period, if granted, would hopefully give all stakeholders, such as the federal government, CN, the City, cottage and lodge owners, supporters of passenger rail service such as the Coalition for Algoma Passenger Trains (CAPT) and others a chance to come together and work out a plan to keep the Sault to Hearst line running in the long term.
The resolution called for a meeting of all stakeholders as soon as possible to address the issue.
A first meeting of groups affected by CN's decision was held at the Civic Centre Thursday February 13.
It was decided at that meeting that a working committee be formed to pursue a one year extension of passenger rail service between the Sault and Hearst in the short-term, and to come up with a plan to ensure passenger rail service in the long-term.
The working committee is led by Sault Ste. Marie Chief Administrative Officer (CAO) Joe Fratesi and includes Tom Dodds, Ian McMillan and Dave Murphy of the Sault Ste. Marie Economic Development Corporation (EDC), CAPT representative Al Errington, and several others.
Fratesi told Council Tuesday that the first meeting was well attended and included several stakeholders through teleconference.
Fratesi said Sault Ste. Marie MP Bryan Hayes and Algoma-Manitoulin-Kapuskasing MP Carol Hughes are well aware of the issue and that Hayes is lobbying the federal government for temporary funding for the Sault to Hearst passenger rail service.
The Coalition for Algoma Passenger Trains (CAPT), meanwhile, will be holding three town hall meetings for people affected by CN's decision.
The first will be held in Sault Ste. Marie Wednesday February 19 at 7:30 p.m. at the Civic Centre, another in Wawa on Thursday at 10 a.m. in the Michipicoten Memorial Community Centre and a third in Hearst at 8 p.m. in the Companion Hotel.
A similar situation occurred when CP Rail and Huron Central Rail announced their intention to shut down rail operations between Sault Ste. Marie and Sudbury.
A working committee of stakeholders, formed in 2009, won a one year reprieve, along with federal government funding for one year, while various parties (the federal and provincial governments, communities and industries) came together and eventually, successfully ensured continued, long-term rail service between the Sault and Sudbury.