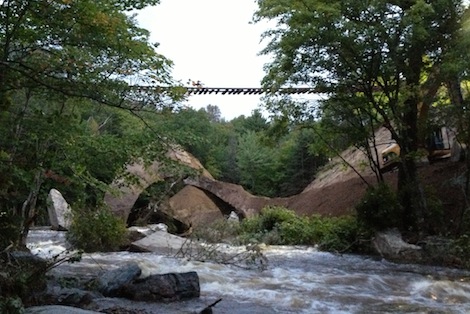 NEWS RELEASE

THE CITY OF
SAULT STE. MARIE

***************************
City responds to unprecedented rainfall conditions

SAULT STE. MARIE - The City of Sault Ste. Marie experienced an extraordinary and unforeseen amount of heavy rainfall on September 9, 2013.

Rainfall measurements, as reported to the Sault Ste. Marie Region Conservation Authority (SSMRCA), amounted to 86 mm within a four-hour period beginning at 10:30 p.m.

Total rainfall on September 9 and 10, 2013 was equal to 140.2 mm.

The extreme amount of rain caused significant damage to City infrastructure and private homes.

Public Works and Transportation crews were immediately called upon to open up flooded roadways; clean debris collected on main roads; clear plugged storm grates and provide assistance to the SSMRCA to ensure local flood channels were clear of debris.

To ensure public safety, barricades were installed on roadways damaged from high water levels and erosion.

Most of the 16 roadways closed as a result of the storm have been cleared and are now open.

Several private driveway entrances have also been repaired.

The following roads will remain closed until further notice:
Allen Side Road between Fourth Line and Third Line at bridge
Fourth Line East between Great Northern Road and Root River Bridge
Accumulated high water in creeks and soil erosion caused varying degrees of structural damage to local bridges.
Several bridges still require engineering inspections to allow further usage.

The following bridges will remain closed until further notice:
Allen Side Road near Bar X
Fourth Line East at Glengary Gate Crescent and Landslide Road
The bridge on Old Goulais Bay Road near Sixth Line is passable.

Traffic is reduced to one lane with access only by vehicles five tonnes or less.

Over 20 km of roadway shoulders experienced erosion damage and many ditches were filled with debris during the rain storm.

Work crews were engaged without delay to begin addressing damage to both gravel shoulders and ditches.

The City would like to report that both sewage treatment plants and all pumping stations performed as designed during the storm period.

Were it not for the significant improvements made in recent years to the City's storm and channel diversion programs, damage would have been much worse.

All available City personnel will continue to work around the clock to address all matters relating to the recent flood.

The public should be cautious in all areas damaged by high water conditions and take notice of barricades and construction cones erected for public safety.

Residents are asked to report tampering of barricades and other safety equipment.

Please call the Public Works and Transportation Department at 705-759-5201.

During the week of September 9 to 14, 2013, the gate fee at the City Landfill site has been waived as a public service to encourage the proper disposal of accumulated items not picked up by the City's residential refuse collection program.

This period has been extended to September 21 to assist residents affected by flooding to dispose of damaged household goods.

The Landfill site located at 402 Fifth Line East is open Monday to Friday, 8 a.m. to 5 p.m., and from 7:30 a.m. to 3:30 p.m. on Saturdays.

Damage assessment and repairs will be ongoing by City work crews until all areas affected by the storm have been addressed.

Crews will continue to work around the clock to avoid further loss.

To date, the City has not declared a state of emergency in Sault Ste. Marie but will reconsider this position once final information is received regarding structural loss.

The City thanks citizens for their continued cooperation and patience.

Residents can report roadway or other concerns as a result of the storm directly to the Public Works and Transportation Department at 705-759-5201.

***************************
Pictured above: CN rail line bridge washout at Root River. Photo provided by Cindy Wright.
Gallery images of flooding at Hiawatha provided by reader Michelle Serafin.