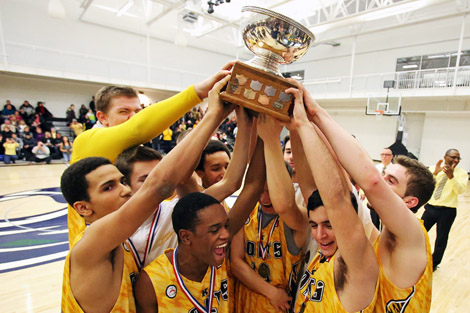 Sault Ste. Marie's high school basketball boys champions have been crowned.
The championship games were held at Sault College on Saturday night.
In the senior final, Anthony Iacoe led the Korah Colts with 22 points as they won the senior title, beating St. Basil 53-49.
Jonah Fogg added 14 points for the Colts in the win.
Joey Bruni had 20 points for St. Basil in the loss, including four three-pointers.
Korah will now travel to Sudbury to compete at the NOSSA AA Championships, beginning on Friday.
The Sault representative for the NOSSA AAA Championships, which also open on Friday, will be determined on Tuesday night.
In the junior final, Andrew Richards had 11 points as Korah knocked off St. Basil 32-24 to win the city title over the previously unbeaten Saints.
Jadon Fogg added 10 points for the Colts. Noah Creedon had nine points for St. Basil in the loss while Matt Gregochuck and Jacob Trudel added five points each.
The Colts will advance to the NOSSA AA tournament in Sudbury, beginning on Friday while St. Basil will be in Blind River for the NOSSA A tournament, also beginning on Friday.
White Pines and St. Mary's will meet on Tuesday evening to determine Sault Ste. Marie's rep in the NOSSA AAA tournament, set for North Bay on Friday.
Photos by Kenneth Armstrong for SooToday.com