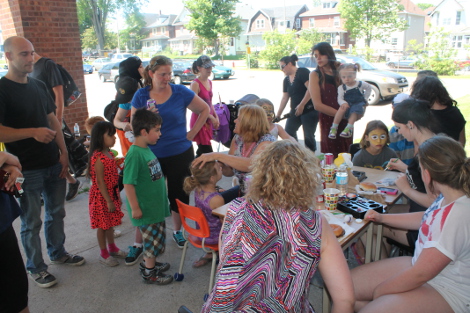 Friday marked the last day of the 2013-2014 school year for children across Sault Ste. Marie.
It was also the very last day children will attend Etienne Brule public school, as the facility will now close as an elementary school.
Staff and parents held an afternoon of activities and a barbecue for Etienne Brule schoolchildren Friday to lighten the burden of disappointment over the school's closure.
Still, the Etienne Brule building itself will remain open in other useful capacities, Patti Aelick, Etienne Brule acting principal, told SooToday.com.
"It's no longer going to be an elementary school but it will be used for some adult education programs, there will be a daycare moving in, and community agencies have been coming in and looking for opportunities to use the building…there has been a lot of interest in the building in making it a community hub for the people in this area," Aelick said.
The school, at 241 Albert Street West, was the last one remaining in the Sault's downtown core, and the educational home for approximately 50 children from JK-3.
Because of that small number of students, the Algoma District School Board (ADSB) announced its decision May 27, after an accommodation review process, to close Etienne Brule and transfer its students to Northern Heights, Kiwedin and William Merrifield public schools beginning in September.
Most of the children will be bused to their new schools.
"It's sad for the people who have sent their children to school here, but the children will be sent to other schools and they're going to be treated really well," Aelick said.
"The staff from here (about a dozen in total) are going to be transferred to the schools the children are going to, so there are going to be familiar faces in the hallways that first day of school, that's important," Aelick said.
Aelick said parents and students have already made visits to Northern Heights, Kiwedin and William Merrifield public schools to get familiarized with their new environments.
Aelick and a kindergarten teacher will be going to Northern Heights, along with 28 former Etienne Brule students.
"The Etienne Brule building will still be here, the pictures on the walls (of old graduating classes) are going to stay…none of that is going to disappear, so they're welcome to come back and visit," Aelick said.
Still, closure of the school has clearly left parents disappointed, feeling inconvenienced and upset with the Algoma District School Board administration.
Tracey Hilderley, whose five-year-old daughter Alexia Rose Cardiff attended Etienne Brule, said "It's very sad…we wanted to keep the school open for convenience sake."
Apart from the inconvenience of children now having to be bused to other schools as opposed to simply crossing the street to attend classes, Hilderley said "It's needed in the community, the park is here with the pool in the summer…the school doesn't have the reputation it used to have, it won a Premier's Award for Accepting Schools, it's baffling why it went under review."
"There are no other educational facilities like this in the downtown area, so it's taking away heritage and history as well as necessity."
Hilderley said it was "appalling" that the ADSB will be sending some of the children to William Merrifield school, another school which has been put on "under review status" by the ADSB (which means possible closure in 2015).
Hilderley said she felt Merrifield should have been closed instead, with its students bused to Etienne Brule, making for a revitalized school community downtown.
Samantha Kyle, whose daughters Michaela and Rylee will be bused to Kiwedin public school, said the situation will be challenging for her.
Samantha will be beginning classes at Algoma University in the fall, travelling to the Queen Street East campus by city transit.
"If anything happens to either one of them while they're at school, I'll have a difficult time trying to get from Algoma University to Kiwedin to get to them, whereas if they were still at Etienne Brule school it would have been a lot simpler to get here and see them…it's closer to my house."
"I think they (the ADSB) should have tried harder…I think they should have considered the location of this school before deciding to close it because it's the only one in the area."
"It would have made more sense to close some of the smaller schools, and have them come to this one because there's more space, a larger gym, it's right beside the public swimming pool, a school rink, and a better playground for the kids to play at," Kyle said.
Both Hilderley and Kyle said they found some consolation in the fact that their children's teachers will be transferring to the same schools their children will be transferred to.
Meanwhile, a number of parties, including families in the Etienne Brule area, city council members, city planners and other community-minded groups have expressed interest in keeping the building open as a community hub as part of an effort to revitalize the downtown core.