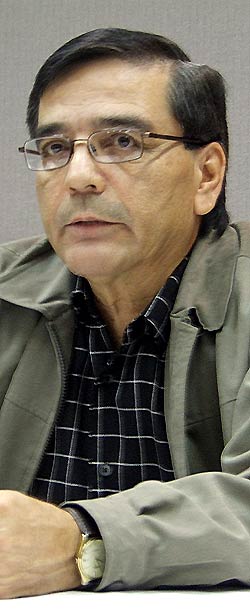 Garden River First Nation Chief Lyle Sayers says he is still hopeful an agreement can be reached between his community and the City of Sault Ste. Marie in regards to greater access for Garden River residents to City Transit Services.
"We sent a letter off to the City a while back and spoke about Transit services to Garden River," Sayers told SooToday.com.
Transit Services officials recently stated there is not enough buses or money available to make four daily trips to the First Nation community.
However, Sayers told us "our staff spoke with the Mayor (Debbie Amaroso) and we'll be sitting down and meeting again hopefully in the near future and how it could potentially work."
It has been suggested by Transit Services the First Nation start its own transit service and link up passengers with the City of Sault Ste. Marie's Riverside bus route at the corner of Trunk and Fournier Roads.
Sayers says Garden River has looked for funding from the federal government to start up its own transit service, but has been told "there are other priorities."
"It's always been a concern. As a community we have a lot of students attending Sault College who need to get back and forth, other families don't have vehicles to get to dentist and doctor appointments, just getting into town is a problem."
"People have to arrange to get rides with friends, that's a big part of it. We do provide some transit service for people with appointments, but people would like to be able to get to town on their own."
"We would like a meeting with the City to see if we could have two trips a day, what could work at a reasonable cost. We don't want anybody going into deficits, but let's try it for two or three months and see how it goes."
"Most of our money that we earn goes to the Sault, because that's where the services are. Let's see what can be done," Sayers said.