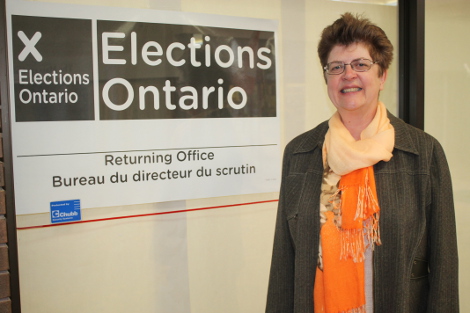 Celia Ross, NDP candidate for the Sault Ste. Marie riding in the June 12 provincial election (pictured), officially signed her election candidate nomination papers Thursday at the Elections Ontario Returning Office at Wellington Square Mall.
To mark the occasion, Ross made comments in regards to the Liberal government's record and what the New Democrats are offering Ontarians as an alternative.
"People are deciding it's time for change," Ross said, referring to Liberal government scandals and what she said were broken promises from the Liberals, and that a New Democrat government under NDP leader Andrea Horwath has a definite plan for job creation and affordability for the people of Sault Ste. Marie and Ontario.
"The Liberal government made 70 promises in their most recent budget but they couldn't even keep three important promises, things which the people of Ontario wanted and that the NDP asked for in the last budget," Ross said.
Those three, Ross said, are reduction of auto insurance rates by 15 percent, reduction of waiting times to five days for homecare and the appointment of a financial accountability officer to monitor government spending, pointing to money spent on cancellation of gas plants, eHealth Ontario and Ornge (air ambulance service).
"New Democrats have a plan to create and protect local jobs by stopping giveaways with no strings attached to corporations, rather, we will support corporations like Essar Steel Algoma, Tenaris and the smaller manufacturing businesses in Sault Ste. Marie by having tax credits for investing in infrastructure and improving equipment, tax credits for creating jobs for a much healthier manufacturing sector," Ross said.
"Small businesses are struggling, they want to employ people…but they're finding it hard to pay all their bills so we will reduce taxation on small companies and also reduce the hydro rates small companies have to pay."
"We will clean up the hydro mess and get the bills under control, immediately reduce auto insurance rates by 15 percent and also look at other things that are making life less affordable."
Referring to the issue of child care, Ross said there are 1,044 children on waiting lists for day care in the Sault and the Liberals have cut $1 million in annual child care subsidies to Sault Ste. Marie.
NDP leader Andrea Horwath has said she will make a $100 million one-time cash injection into Ontario child care if the New Democrats form the next government.
"We want to eliminate government waste, the bloating and mismanagement so that the tax dollars going to government will actually be used for services for people, cap CEO salaries, eliminate bonuses for consultants, create a Ministry of Accountability and Savings as well as the financial accountability office," Ross said.
"These are very concrete moves so that tax dollars will go to support services like daycare spaces, seniors living in long-term care in dignity, the money will go to things that matter to us."
Ross said she anticipates NDP leader Andrea Horwath will be visiting Sault Ste. Marie at some point during the election campaign.