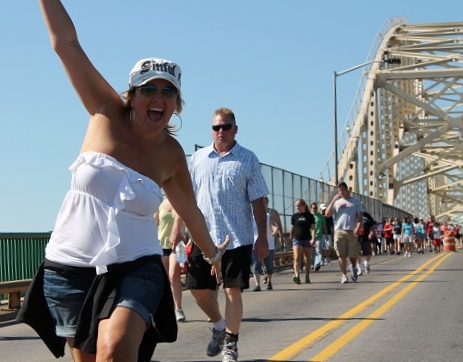 Thousands of citizens from both sides of the bridge gathered on Saturday morning to celebrate the linking of two countries.
Canada and the United States - along with Sault Ste. Marie, Ontario and Sault Sainte Marie, Michigan - are both connected by the International bridge and residents participated in the 26th annual bridge walk by showing some brotherly love while they walked and rode across the neighboring nations.
A record crowd of over 5,000 people, many of whom were draped in Canadian and American apparel, showed up to celebrate the bridge's 50th birthday.
The outpouring of affection and brotherly spirit between the two countries is something that always moves Phil Becker, general manager of Sault Ste. Marie Bridge Authority.
"This magnificent structure really makes this one city in two nations," said Becker. "In friendship, we can be proud of our national heritage and I love that. We're different countries, but we share common values like freedom and national dignity."
To honour the bridge's 50th anniversary, Becker said several different activities have been added to the festivities.
In partnership with cyclist organizations from both countries this year's walk was preceded by a bicycle show.
"This is the only international crossing I'm aware of where bicyclists are approved toll paying customers," said Becker. "We wanted to celebrate that in some way."
The bike show is currently planned for this year's event only, but Becker did say they were open to having it again in the future.
Al Offidani was one of the hundreds of locals to ride across the bridge and paid tribute to three countries close to his heart in the process.
Along with a bike decorated with Canadian and American memorabilia, Offidani was sporting an Italy necklace around his neck.
While Offidani - whose parents were both born in Italy - is paying tribute to his home and native land today, he's hoping to share Canada's birthday tomorrow with his families homeland.
"I was born in Canada, but my heart is always close to Italy," said Offidani. "Hopefully they will pull it out tomorrow and we can wave Italian flags around the city. Winning the Euro Cup on Canada Day would make it extra special."
Offidani's predicting a 1-0 Italy triumph tomorrow afternoon through a goal from striker Mario Balotelli when the Azzurri take on Spain in the 2012 UEFA European championship match at 2:45 p.m.
Bicyclists like the 59-year-old Offidani made their way from the Norris Centre parking lot to the Canadian side of the bridge and back - an approximately 5 K.M. plus trek according to Becker.
"It was exhilarating," said Ruth Galinis, who biked across the bridge for the first time. "The heat definitely didn't make it any easier, but it was quite the experience."
Galinis, a frequent cyclist, reports it took her just over 37 minutes to complete the trip.
In addition to the bike show, other new add-ons included the playing of a 50th anniversary video in the gathering area, along with digital monitors filled with pictures of the bridge's construction.
"We really wanted to increase awareness and appreciation for the International Bridge and its history," said Becker.
"This is more than just a bridge, it connects two nations as one."
A video and news release from the International Bridge Administration follows.
*************************
The video below is courtesy of the Michigan Department of Transportation.
June 30, 2012 -- The Sault Ste. Marie International Bridge has connected the twin cities of Sault Ste. Marie, Michigan and Ontario, for 50 years.
The occasion was marked with a bridge lighting ceremony and commemorative fireworks June 28, and a record-setting crowd participating in the 26th Annual Bridge Walk on June 30.
The celebration will continue throughout the year. For a list of upcoming events visit
www.saultbridge.com
**************************