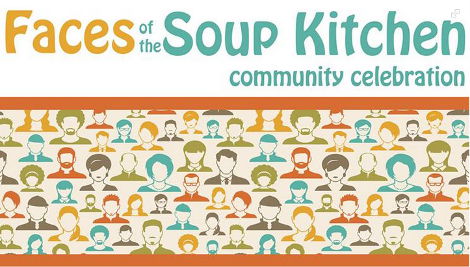 NEWS RELEASE
SOUP KITCHEN COMMUNITY CENTRE
*************************
Soup Kitchen Celebration kicks off summer June 1 with music, art, and a bouncy castle
It is said that Sault Ste. Marie is "Algoma's Friendliest City".
That reputation has certainly been tested and proven in the weeks leading to the Faces of the Soup Kitchen Community Celebration, happening this Saturday June 1 from 12-10 p.m. at Mill Square at the Historic St. Mary's Paper site.
Initially called a "Gala", the event's planning committee quickly renamed it a "Community Celebration" to reflect the groundswell of public support the event has received from the beginning.
Planned entirely by a committee of 17 volunteers and supported a team of over 100 more, the event is a true testament to the kind of community support experienced by the Soup Kitchen over the years.
Local artists, musicians, crafts people and businesses have also stepped up to support the event as performers, vendors and event sponsors.
The event will feature a full day of activities for the whole family, starting at 12 p.m. with a barbecue and old-fashioned carnival, complete with bouncy castle, fish pond and other carnival games.
Inside, vendors will be selling local fine arts and crafts while the "I see, I dream, I remember" project will welcome anyone to stop by and share a story of the West End.
Daytime entertainment will feature poets, West End storytellers and local musicians.
For those who might be curious about what's happening with the St. Mary's Paper redevelopment project, between 12 and 5 free guided tours of the site will be offered.
Inside, a discussion area will be set up featuring potential site plans, and River's Edge staff will be available to answer any questions.
Another discussion area will be set up to share information and gather community input about the emerging Community Health and Childcare Centre plans.
A key goal of the Celebration is to launch an awareness and community outreach campaign about the new Centre, which will aim to provide multi-service holistic care in an empowering setting for members of the currently under-serviced West End.
Evening activities will kick off at 5 p.m. with headlining performances by Tyler and Tyler, MDDunn, Caveman Morrison, Frank Bock and Jim O'Leary and Friends followed by a touching performance of the well-known Soup Kitchen play, In My Shoes.
The production features true stories told and performed by patrons, volunteers and friends of the Soup Kitchen.
Be sure to bring some Kleenex.
The buffet, catered by the Soup Kitchen, will open at 6pm and the night will close with Obsession rocking the stage until 10 p.m.
Entrance to the event is by donation.
Buffet tickets are $20 and can be purchased at the door.
For more information visit www.facebook.com/SoupKitchenFaces
*************************