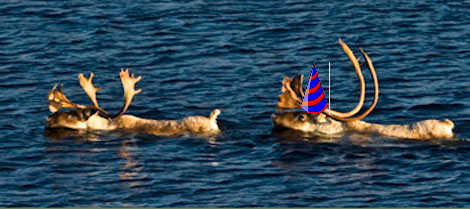 Thanks to the generous support of Joes Sports and Quattra, local celebrity environmentalist and Sault Ste. Marie Walk of Fame inductee Gary McGuffin is checking in from spots along the way on the latest expedition with the Wilderness River Expedition Art Foundation.
This year's expedition will paddle and explore the Noatak River in Alaska.
SooToday.com visitors are invited to share questions for McGuffin in the comment section below.
Here is the latest on the spot update from McGuffin.
*************************
August 21
On Tuesday, Lena Mullen left a message on her father's Facebook wall.
"
Happy birthday Papabear, I wish I could spend it with you I hope you are being safe. I miss you sooooo much!!!! ♥," she said.
But Rob Mullen won't get to read that for at least another week.
At the time Lena was leaving her father a birthday wish he was here.
Mullen celebrated his 56th birthday deep in the Alaskan wilderness on the Noatak river with five people who, by now, have become his five best friends as the group of adventuring artists paddle down the river to the sea.
"I can't think of a nicer place to celebrate a birthday but it's just horrible missing Bonnie and my daughters," Mullen said on Tuesday afternoon. "I love them and miss them a whole bunch."
His life-partner, Bonnie Rowell said she wanted to wish him a happy birthday, too.
"He's always away on his birthday so I never get to tell him," she said.
Mullen talked about the trip so far.
"We've had about a week of tough winds, cool temperatures and spotty rain," he said via satellite phone from the Noatak river on Tuesday. "It's been great for wildlife spotting though. We've seen musk ox, bears, wolves."
He also said the river has carried the group along some days for more than 40 miles because it's been flowing so swiftly.
"The river's been swollen and turgid for the last week because of the heavy rains we've had but we did get a rare treat at the beginning of our trip," Mullen said. "We got about four days of clear weather and Mount Igikpak, the tallest peak in the park, actually showed itself for the first time this summer, according to our pilot."
He said he did several paintings of the mountain at the beginning of the trip.
Mullen also said that Tuesday was probably the worst day of the trip so far, at least where weather is concerned, anyway.
"We've been socked in, it's been cold, raining and windy," he said. "But it's stopped raining now and we're hoping to make some small distance downstream now. There's a cabin there that some subsistence hunters use."
The group could paddle a ways before it gets dark, he said.
"It's still light at midnight," Mullen said. "At least it does get dark here now. When we first arrived it was light all day long. Now, by about 2 a.m., I wouldn't say it's dark like night time, but it's kind of gloomy out there."
Everyone has been very nice and friendly, he said.
Even the bears, wolves and musk ox have been very well behaved and cordial.
"It's a wonderful way to spend a birthday, out here doing what I love to do," Mullen said. "The only thing I might wish for is a little bit clearer weather but we're well equipped and able to handle this with ease and we're all comfortable, warm and dry."
August 20
The Noatak adventure continues with an exciting pause for caribou crossing, Sunday, says Gary McGuffin.
"We were just about to stop for lunch when a whole heard of caribou plunged down the bank just ahead of us and out into the river right in front of us," he said Monday.
"We've timed this perfectly for the caribou migration and we're seeing them every day, now."
They're well out into the tundra and seeing many species of migratory birds, too.
Tundra swans, arctic terns, arctic loons, snow geese, merlins, peregrines, gyre falcons, a short eared owl, many willow ptarmigans and plenty of pairs of golden eagles have all made appearances to the eager troupe of traveling artists.
The sun doesn't actually set for very long where they are above the arctic circle so it never really gets dark, says McGuffin.
For the past five days it's been overcast with plenty of rain and the Noatak river has been transformed from a ribbon of clear blue water to a wide silty, brown-gray sludge of rushing water carrying silt and sand along with it.
"The river has risen two feet in the first couple days of the rain because it's been raining all over the basin," McGuffin said. "Yesterday we paddled 42 miles, mostly because of the current."
The group usually rises about 6:30 a.m. and gets on the river by about 9 a.m. after eating breakfast and striking camp.
"That's when the wildlife is on the move and we tend to see a lot," says McGuffin. "We're all experienced wildlife observers and birders and we all have our binoculars at the ready. Not much escapes our notice."
Even in the wind, which usually picks up about 10 a.m. and settles down about 8 p.m., if it settles down at all.
The rain and the wind came together about four and a half days ago and has made camping a bit tricky for the group, especially for setting up the big kitchen tent.
"We've had to camp among the willows, which grow to about six feet out here on the tundra," said McGuffin. "It's the only shelter from the wind."
But it's been serving them well and allowing them plenty of space and time to socialize and to work on their field notes and sketches.
The group generally stops for lunch about 12:30 or 1 p.m. then paddles another four or so hours before setting up camp.
That gives them another five or six hours to set up camp, eat dinner and take a walk out onto the hills for more reference sketches, photographs and field paintings.
They generally retire to their tents by 9 or 10 p.m.
"We have no problem getting to sleep, even though the sun is still up and it's still bright out," said McGuffin. "We're all pretty tired by then."
*************************
Earlier SooToday.com coverage of this story