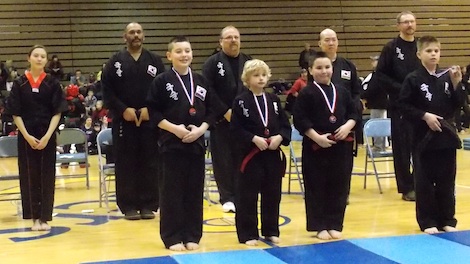 NEWS RELEASE
KUK SOOL WON FAMILY MARTIAL ARTS CENTRE
*************************
LSSU Martial Arts Championships, February 2, Lake Superior State University
Fifty-four members of the Kuk Sool Won Family Martial Arts Centre took part in the Lake State University Martial Arts Tournament, held Saturday, February 2 at Lake State's Norris Center.
The Sault, Ontario students brought home 28 first place, 17 second place, 22 third place, and 25 fourth place finishes.
Four members of the team also received Grand Champion recognition for most overall points in their respective age groups:
• Gavin Nadon - 6 years and under Grand Champion
• Dylan Rollin - 7 & 8 Grand Champion
• Emily Monarch - tied for Adult Women`s Grand Champion
• Hannah Shuttleworth - Black Belt Grand Champion
Monty Pinder, instructor of the Kuk Sool Won School, is very pleased and very proud of all the students who took the time to support the event.
Many of the students were very new and inexperienced, some as young as 4- and 5-years-old, this takes a lot of courage for these youngsters, as well as the adults to get up in front of a gymnasium full of people and perform as they did.
The medals and the awards are all very nice however; it is what the student learns that is most important.
How each one develops courage and learns to overcome fears, how winning, as well as loosing, team spirit, and good sportsmanship develop good character these are the virtues that are important and will help students through other aspects of their life.
All the instructors at our school also deserve a great deal of recognition for sacrificing their time to teach classes and give back what they have learned. We have a great team of dedicated Black Belts.
Kuk Sool Won Family Martial Arts Centre has various classes running all week for anyone wanting to tryout our martial arts program.
We are the only registered and licensed Kuk Sool Won School in the area and all the instructors are licensed by the World Kuk Sool Won TM. Association.
The Kuk Sool Won Family Martial Arts Centre is now setting their sites to defend their title at the Great Lakes Regional Kuk Sool Won Championships being held April 13 at Lake State University.
The Sault, Ontario students have been the regional tournament champions for 10 of the last 13 years.
*************************