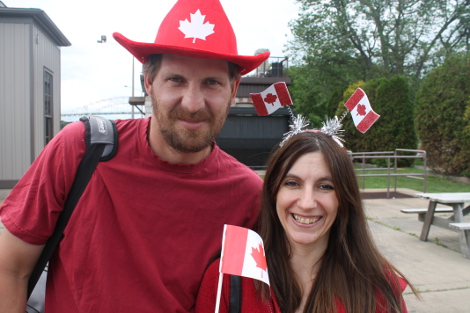 While most of us were enjoying time with friends and family to mark Canada Day Tuesday, dedicated staff and volunteers were on hand at several tourist attractions across the city of Sault Ste. Marie to give local visitors and tourists a peek into our historic community.
Mark Cormier and Rebecca Taylor (pictured) were among visitors who gathered at the Sault Ste. Marie Canal to enjoy a free guided tour of the Canal and Powerhouse, built in the late 19th Century.
It was a chance for Rebecca to take a closer look at her own family history.
James Taylor, Rebecca's grandfather, worked as an engineer at the Canal and actually lived on site.
Tuesday's tour included a look inside the Powerhouse, an informative question and answer session about some key events in the Canal's history and a tour of the no-longer-used Canal superintendent's house.
Local band Northbound 35 performed from the roof of the Canalman's shelter.
Parka, the Parks Canada beaver mascot, was there to meet the kids.
Elsewhere, the Canadian Bushplane Heritage Centre was also open to receive guests, as was the Sault Ste. Marie Museum (which featured an exhibit of some very old cameras) and the Ermatinger-Clergue National Historic Site's new Heritage Discovery Centre.
The Heritage Discovery Centre has a pleasant gift shop and lobby.
The lobby is bright and spacious, with a reception desk and a large painting on an adjacent wall which depicts the community's Ojibway roots, with impressive whitefish sculptures hanging from the ceiling.
The Centre has a theatre and a room which houses a cannon and very realistic mannequins of 1812-era British and American army officers.
Kathy Fisher, the Ermatinger-Clergue National Historic Site curator, told SooToday.com the new Centre had a "soft" opening June 23 and has been well-visited, but materials are still being added in advance of the Centre's official opening July 17 (which will include an official ribbon-cutting ceremony).